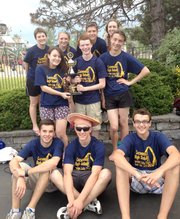 The first time turned out to be the charm for the Cazenovia High School Chamber Choir and Wind Ensemble, each of which came away with top prizes from last weekend's Darien Lake Music Festival in Western New York.
It was the first trip to the regional musical competition for both groups.
The 16-member choir earned a first-place "gold with distinction" trophy in its division, choral teacher and fine arts department leader Teresa Campbell said. The group, comprised of students in grades 10 through 12, showcased its talent and range by performing three selections: "My Spirit Sang All Day" (standard choral a cappella); "Tango to Evora" (contemporary Latin); and "Ain't Judgin' No Man" (spiritual).
The chamber choir consists of: Mitchell Britton, Connor Carroll, Josie Chiarello, Kathleen Connellan, Will Fellows, Kelsey Henderson, Kyle Johnson, David Kempf, Katie Kempf, Rosy Ngun, Rusty Paddock, Rebecca Pfohl. Amber Robinson, Jessy Silfer, Marie Sugio and Joe Zambito
"It was a pleasant surprise that the students fared so well at the festival," Campbell said. "We had no idea what we'd find when we got there, what the level of competition would be. But we just decided to go and do our best. I always knew our best singers could hold their own against the best singers in any school — and it was nice to see it was actually true."
The wind ensemble, made of 45 students in grades nine through 12, also brought home a first-place "gold with distinction" trophy and was declared "Grand Champion" by the judges in its division. The Cazenovia musicians performed a Level 6 (the most difficult) piece, "Puszta," by Jan Van der Roost, and a Level 5 selection, "Chorale and Shaker Dance," by Robert Zdechlik.
"It was the students' choice to perform music at this level," said ensemble Director Kevin Johnson.
(Continued on Next Page)
Prev Next
Vote on this Story by clicking on the Icon