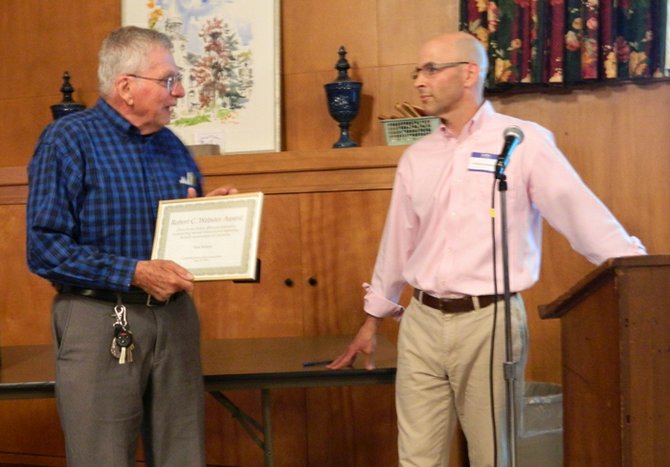 continued — The board elected four new members to three-year terms on its board of directors: Nicki Donlin, Robin Ellis, Katherine Huftalen and Pauline Ireland It also re-elected its board officers to continue in their current positions. The officers consist of President Carlos Gavilondo, Vice President Tim McCay, Treasurer Don Stehle and Executive Secretary Alexis Ellis.
The highlight of the evening for members, though, was the presentation of the CPF's annual preservation awards. Frank and Stephanie Rue received the Rural Architecture Award for the preservation of the crica-1910 historic barn on their Erieville Road property; project architect Carl Stearns accepted the awarded on behalf of the Rues.
The Commercial Architecture Award was given to the Burritt family for their preservation and renovation of the old Albert's restaurant building a 52-54 Albany St., which they turned into Allure Fitness and Dance studio.
The Residential Architecture Award went to Brian Coughlin, project architect for the restoration of the house at 21 Farnham St., currently owned by Jenny Rhodes and Andy Halperin.
The Robert C. Webster Award for "tireless efforts and dedication to protecting natural resources and improving the built environment in Cazenovia" was given to Don Ferlow.
"This is probably the most prestigious award we give," said Gavilondo.
Ferlow, who is currently chair of the Cazenovia Advisory Conservation Commission, has been a practicing landscape architect for more than 40 years. He has planned, designed, and implemented hundreds of projects during his career, and is often consulted by Cazenovia municipalities on development projects.
Ferlow is the senior landscape architect and wetland scientist at GHD, formerly Stearns & Wheler, in Cazenovia, an adjunct professor at SUNY ESF. Last year he received the Distinguished Practitioner Award in the Private Practice by the NY Upstate Chapter of the American Society of Landscape Architects.
For more information on the CPF, visit their website at cazpreservation.org.
Jason Emerson is editor of the Cazenovia Republican. He can be reached at editor@cazenoviarepublican.com.
Vote on this Story by clicking on the Icon