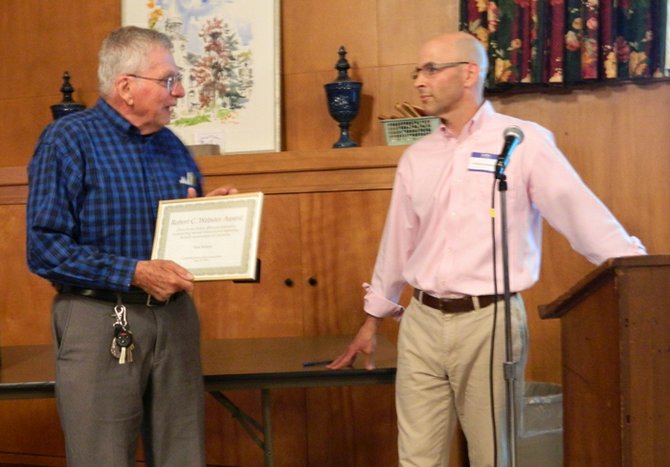 Cazenovia — Cazenovia landscape architect Don Ferlow received the Cazenovia Preservation Foundation's top award for environmental preservation at the organization's May 23 annual meeting. The award was one of four given out that night in front of an audience of about 70 CPF members and supporters. The group also elected new members and a new board of directors, reviewed their 2012 successes and achievements and laid out plans for 2013.
"This year will be very busy. Along with bringing more than 550 acres of farmland under permanent protection in 2013, we'll also be expanding CPF's trails network and increasing program offerings compared to prior years. We'll also be looking for ways to enhance CPF's funding sources to augment the loyal and generous support we get from members each year," said CPF President Carlos Gavilondo.
The Cazenovia Preservation Foundation, which is now in its 46th year of existence, works to protect historic, agricultural and natural resources in and around Cazenovia for the benefit of the community.
In recent years they have been actively involved in numerous community land use projects in and around Cazenovia, including the Empire Brewing Company proposed farmstead brewery on Route 13, renovation of the Westshore Gateway area, and preservation of the Ender's house and Carpenter's Barn.
The CPF scored a number of accomplishments in the year since its previous annual meeting, including closing on a 422-acre preservation easement on the Reed farm in New Woodstock, closing on a 155-acre preservation easement on Shadowfax Farm on Damon Road in Cazenovia, the planting of 13 trees on Fenner Field, publishing new Cazenovia trail maps, holding talks and presentations for the public and an increase in membership from 280 to 285 members, said CPF Conservation Manager Judy Gianforte.
For the ensuring year, the CPF is working to create a new loop trail in the Willow Patch off Mill Street, to acquire a six-acre woodland with trails in south meadow next to the South Village development, to improve the drainage of Carpenter's Pond, continue its "Walks and Talks" lecture series and to update its strategic plan, Gianforte said.
(Continued on Next Page)
Prev Next
Vote on this Story by clicking on the Icon