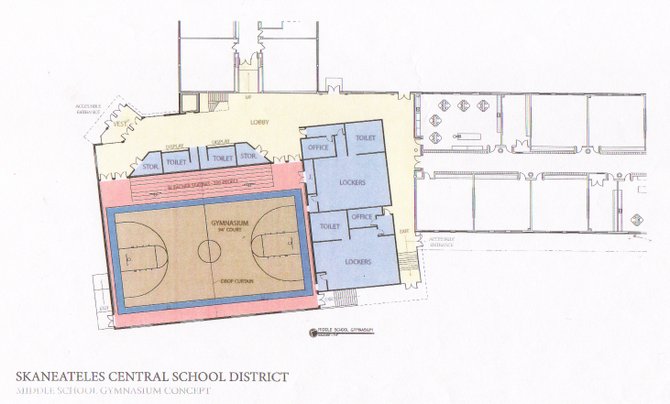 Several residents spoke in opposition of the project at the meeting.
Tom Maher said he thinks the district should be handling maintenance of its buildings in its annual budget rather than asking for permission to bond for money every few years.
"I think this district ought to get in the habit of having a budget and living within it," Maher said. "I think this is nonsense."
Several other residents voiced opposition to the inclusion of a new, bigger middle school gymnasium, saying that it was unnecessary and expensive.
Dreyfuss responded by saying that the decision was hard for the board but, that they were encouraged to include it after he received more than 50 emails supporting the bigger gymnasium.
What does the project include?
Below is the full list of proposed work including an estimate for the expense of each item as determined by the project architect. Each item includes a contingency fund to cover unforeseen expenses. The total figure of $22.7 million also includes $1.22 million for escalators, to account for increases in building and labor costs over the next few years, and $810,00 for capital interest to delay the full impact of the bond on taxes until the 2017-18 school year.
Security, $1.22 million
Security systems (cameras and door access), $392,524
160 kW backup generator, $235,514
Security hardware replacements, $165,802
Intercom/PA system replacement, $157,010
Replace interior doors, $94,206
Replace exterior doors and frames, $56,523
Lighting at parking areas, $117,757
Safety, $699,550
Electrical panel upgrades, $47,103
Upgrade fire alarm system, $157,010
Install battery backup, $19,626
Emergency lighting, $78,505
Add smoke detector devices, $78,505
Replace handrails and guardrails. $31,474
Interior stair repair, $43,178
Middle school lift upgrade, $35,327
Reconstruct areaway drainage structure, $102,056
Tech shop renovations (paintbooth and casework), $78,505
Replace chemistry room fumehoods, $28,262
Energy and efficiency, $6.40 million
Vote on this Story by clicking on the Icon