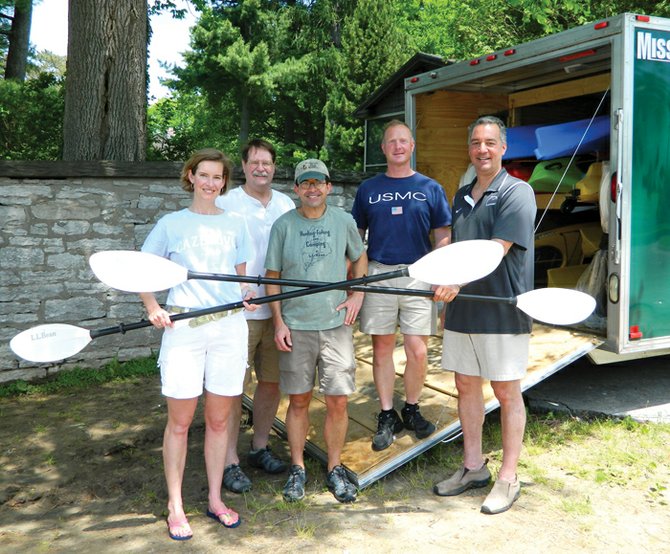 continued — "This was really the nicest spot of all the choices," Schwarz said of the company's decision to choose Cazenovia Lake. "And this is where our customers are — it's not the north side — it's Cazenovia, Manlius, Skaneateles." He said that Oneida Lake was not feasible, Jamesville Reservoir was too small and Cazenovia Lake was the most interesting.
Cazenovia residents and visitors also have great interest in the school. Within 10 minutes of the L.L. Bean trailer being parked at Lakeland Park Saturday, three people walked up to ask about kayaking opportunities.
"I'm very happy. I visited Cazenovia last fall, saw kayaks on the lake but there were none available anywhere to rent," said Jean Stevenson, a resident of Toronto, Canada, who was visiting her family. "I know how to kayak, but for $20 I'm happy to go and learn more."
Jen Walburger and her 11-year-old son Issac also were eager for more information. "I'm excited," Issac said.
"We're very interested," said Jen. "He's asked multiple times in the past couple of years for us to get him a kayak. This is perfect for us — a great way to try out some boats. I'm going to call and sign the two of us up."
Mayor Kurt Wheeler said this new offering of additional recreational opportunities and increased village visitation is what this deal was all about. "This [partnership] reflects the village's desire to be flexible and open-minded in pursuit of opportunities which are good for our overall community," he said.
A review and discussion of the contract with L.L. Bean ison the agenda for the board's June 3 regular monthly meeting, during which the board is expected to iron-out the final details. When everything is firm, the village will publicize the schedule of guided tours/classes that will be provided, said Trustee Amy Mann.

Vote on this Story by clicking on the Icon