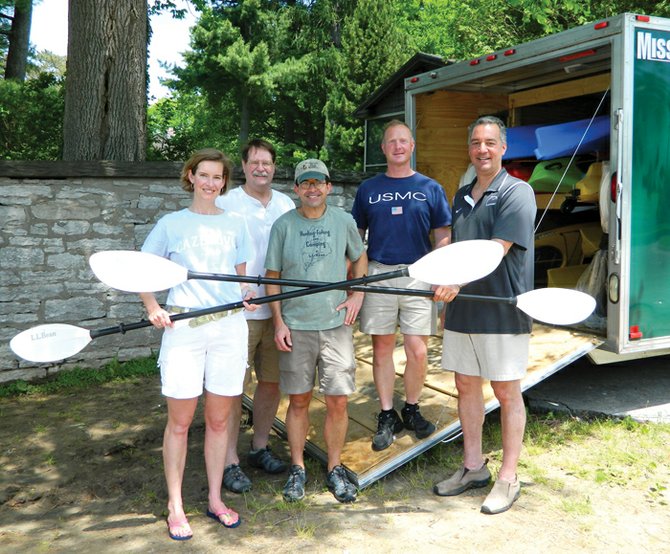 continued — The company initially reached out to Trustee Dave Porter, who is on the parks and recreation committee, who conveyed the interest to Elizabeth Digiacomo, who is responsible for laying the initial groundwork with L.L. Bean and having the initial conversations. She then brought the possibility to a meeting of the Carpenter's Barn committee — since kayak rental has probably been the top-suggested use for the barn. At that meeting, Joseph heard of the opportunity and offered to help. Joseph, whose corporate background includes being the former president and CEO of Oneida Ltd., has been personally acquainted with L.L. Bean executives for 25 years.
"It was very natural for me to pick up the phone and talk to them," Joseph said. "This is where I feel I can add value to the board, given my background."
Joseph informed the rest of the village board at a May 20 meeting about his discussions with L.L. Bean, and asked if the partnership was something the village wanted to pursue. If so, they needed to move immediately because the company was not only considering multiple locations for the school — the municipalities of which actively lobbied for the partnership — but they wanted to start the program in early June. The trustees all agreed to have Joseph continue his dialogue so as not to lose what they saw as a great opportunity for Cazenovia.
At a May 28 special meeting of the board, Joseph said the last email he received from Schwarz said, "I do feel Cazenovia Lake is the right area for our programs," and said the company believes the possible partnership would be "mutually beneficial."
"I told him we were taking a very can-do approach to this," Joseph said. "This partnership can only get better and grow."
Within days, L.L. Bean decided to choose Cazenovia Lake, a deal was struck and the kayaks arrived in Lakeland Park. "I'm thrilled," Joseph said.
Vote on this Story by clicking on the Icon