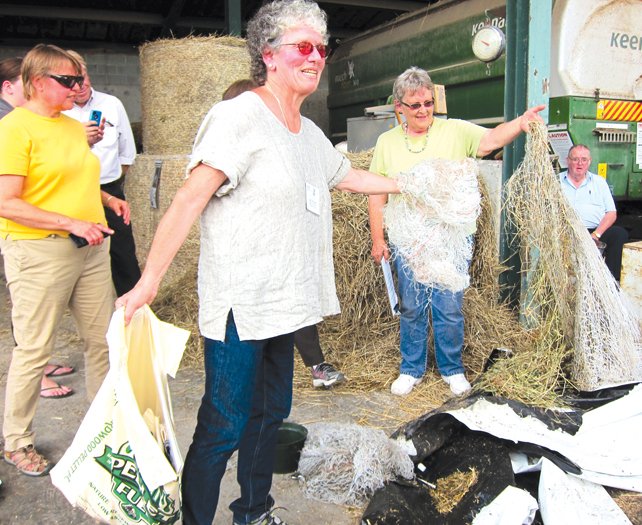 continued — With support, creativity and the fortune of having land at the landfill site for storage and transfer, Jim Zecca, director of the Madison County Department of Solid Waste and Sanitation, put together a plan "to encourage farmers from this county to bring used ag plastics to any of four transfer stations," RAPP Program Leader Lois Levitan said. Farmers from surrounding counties may bring plastics to the main recycling center — the Madison County Landfill — located at 6663 Buyea Road in Canastota.
Zecca and Levitan are working as much as possible with people who will manufacture new products, and are also working to locate a plastics-to-oil company, hopefully in Madison County, Levitan said.
"We had hoped for a long time that plastics-to-oil would be the salvation of all of the stuff that was too dirty for a manufacturer who makes new products to use," she said. "And it's not true. … It's not all it's cracked up to be until we get it clean enough."
Levitan said that RAPP, with this year's process, can handle many plastics that other places will not touch — like net wrap, for example — so long as it is decently clean. People should "shake it out" and "stuff it into a bag so it stays clean and dry," she explained.
Grit is the biggest problem, Levitan added, because it will ruin recycling equipment. But RAPP "can say yes to anything that doesn't have grit embedded in it."

Plastic bunker covers also need to be folded into pillows, rather than dropped off in long strips, Zecca said. Baase and Zecca demonstrated how to properly fold the plastic into bundles and stressed that tying the pillows up with twine is not necessary. If twine is used to bundle the plastic, it must be removed when the pillows are dropped off at the facility.
Vote on this Story by clicking on the Icon