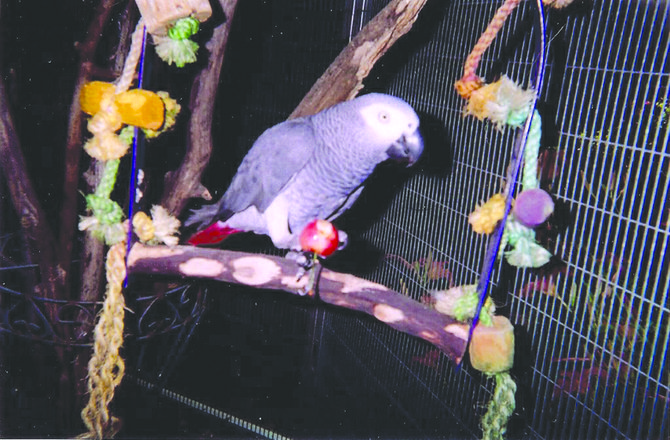 Kiwi is a very special parrot. I adopted him when he was only 3 months old. He and I chose each other as our forever mates. Even though I was his chosen mate, he adopted my late husband's voice and mannerisms. Talking to Kiwi every day was like speaking to my deceased husband; Kiwi was my connection to him. The Congo African Grey has the intelligence of a five year old human child.
Kiwi flew out of my hand when I was carrying him in for the night from his outdoor aviary. He never attempted to do so in 14 years. Kiwi is a very intelligent, gentle soul. He is listed with every bird rescue organization in the country, since he flew from me on July 3. Since missing, Kiwi was sighted in Cazenovia and the Fayetteville-Manlius area. These parrots can fly within a fifty mile radius.
I greatly appreciate your support. The entire community of the Fayetteville-Manlius area has been greatly supportive, as well as in Cazenovia. I am in my early seventies and need your help to bring Kiwi home.
Thank you for your consideration. If you have seen this parrot, please call 447-2814 or Dr. Gary Rothman 469-3959. Please do not attempt to catch him. To keep him on the premises, we would greatly appreciate it if you would offer him some nuts, cold cereal or fruit and contact the owner immediately.
Vote on this Story by clicking on the Icon