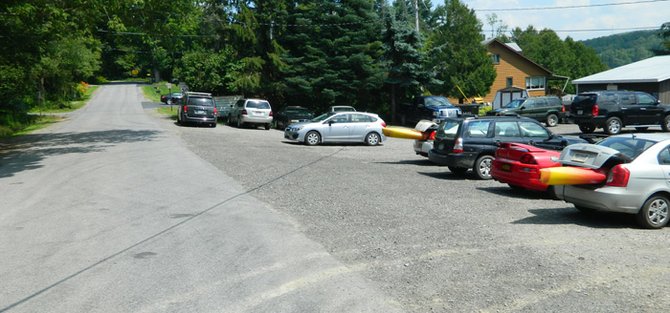 continued — At the request of the town board, Madison County Highway department officials had agreed to review the parking signs on North Lake Road to help the town improve the situation, but the recent flooding has prevented them from doing so, Costello said.
During the public discussion, Blue Canoe neighbor Robert Bailey said the parking signs as currently placed are "unintelligible," and that when parking was simply prohibited along the north side of the road as it was for many years, "there was no problem."
EFD member Jane Magee agreed with Bailey that no parking along the north side of the road — "as it was for 40 years" — was the best solution to the current problem.
Blue Canoe owner Trish Bookbinder said she wants to help ensure community safety over the parking issue, but she also wants her customers to have a place to park.
"We certainly don't want to discourage our customers from coming in," she said. "I live in Cazenovia and I see what the parking has done to that community. Let's work together to work this out."
Town Supervisor Roger Bardstreet agreed. "We need to be able to navigate [the road] for emergency service, but we don't want to go overboard [with regulation] because we want the business there to thrive," he said.
The discussion made clear that all the residents present favored a no parking zone on the north side of North Lake Road as the best solution to the problem. The town board members agreed to hold an official public hearing on the issue at their Aug. 8 meeting.
Also at the meeting, the board:
—Scheduled a public hearing for 7:15 p.m. Thursday, Aug. 8, at the town office to review proposed zoning changes in the town land use regulations.
—Heard from Town Highway Superintendent Jack Sevier that the recent flooding partially washed out 10 pipes and caused some road damage. He said he estimates the highway department will use 1,000 yards of gravel to repair town roads, and the department will be working on flooding repairs "for the rest of the summer."
Vote on this Story by clicking on the Icon