Skaneateles Creek became the site of an unusual spectacle last Friday evening: thousands of rubber ducks were poured into the water.
Though the second annual Duck Dash itself only lasted about five minutes, a big crowd was present behind CVS to see the ducks "dash" down the creek toward the finish line.
Ticket holders with the number matching the numbers on the top 10 finishing ducks, and the last place duck, were awarded prizes including cash, memberships for the Skaneateles YMCA and more.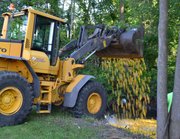 The proceeds from the ticket sales went to benefit the Skaneateles Foundation, Laker Limo, Skaneateles YMCA as well as community groups who helped to sell tickets such as Lakeshore Baseball, the Skaneateles Library and the Skaneateles Historical Society, Skaneateles Area Chamber of Commerce Executive Director Sue Dove said.
The original idea for the Duck Dash, which was held for the first time on Saturday of the Skaneateles Curbside Festival last year, came from the Auburn Kiwanis club who hold a Duck Derby every year, YMCA Director Dorthea Hughes said.
The Duck Derby is held over a quarter-mile stretch of the Owasco River in Auburn. Since the Skaneateles event takes place over a stretch of just a couple hundred feet, the organizers dubbed it a dash rather than a derby, Hughes said.
The Skaneateles event rents 4,000 of the ducks from the Auburn Kiwanis Club, who own 6,000 for their event.
Though the event was a success last year, the organizers decided to move it from Saturday afternoon to 5 to 7 p.m. Friday this year. The Curbside Festival sidewalk sales officially end at 5 p.m. and the weekly community band concert in the Clift Park Gazebo starting at 7:30 p.m. so the new time slot minimized conflicts and gave families a lineup of activities to compliment dinner in the village, Dove said.
Prior to ducks being dumped into the river from a front loader around 6:30 p.m., volunteers sold food and drinks, tickets for the Dash and held carnival games to raise more money.
Since the actual dash went very quickly the first time, this year pool toys attached to rope and pulleys were placed in the creek to delay their trip down the creek. Volunteers were also placed in the creek with badminton rackets to direct the ducks.
Joe Genco is the editor of the Skaneateles Press. He can be reached at editor@skaneatelespress.com.
Vote on this Story by clicking on the Icon