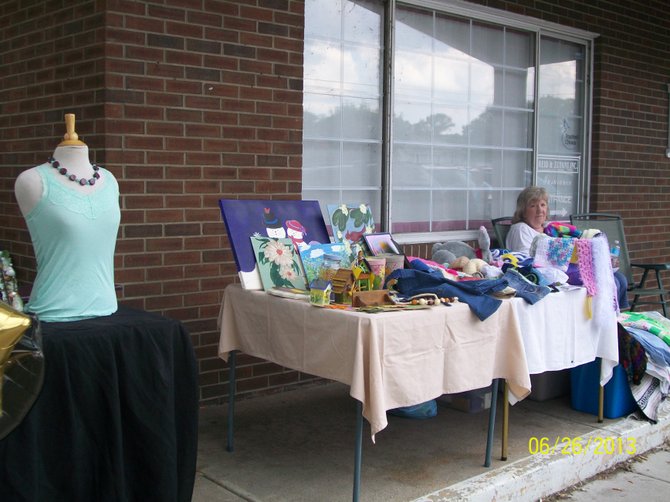 Liverpool — Despite oppressive heat, continual rainfall and spotty participation, "Mark Wednesday" marches on under the direction of the Greater Liverpool Chamber of Commerce.
The sidewalk-sale promotion kicked of June 26 and continues from 4 to 7 p.m. on Wednesdays through Aug. 14.
Sidewalk vendors have set up shop outdoors on First and Second Vine and Tulip streets. "Of course we also have local merchants doing business in their brick-and-mortar storefronts," said Chamber Director Lucretia Hudzinski. "Some of the popular products are jewelry, scented candles, office furniture, baby blankets, nature crafts, artwork and lessons in karate and martial arts."
Market Wednesday has also hosted coffee- and beer-tastings, and on July 24 will feature "child-focused" activities including face-painting and clown performances, she said.
The promotion is designed to draw people into the village center on Wednesdays just prior to the 7 p.m. Liverpool Is The Place concerts in Johnson Park.
On-air personalities from Movin' radio (100.3 FM /WOLF 105.1/Radio Disney), a Market Wednesday sponsor, have made several Wednesday pre-concert appearances in Johnson Park.
Original plans had called for a farmers' market in Washington Park, but that did not materialize.
Village-based sponsors and vendors include Fortunato's European Hair Design, Key Bank and Voss Signs.
The promotion has taken off slowly. "The extreme heat and continued threats of rain
have put a damper on some of our nights," Hudzinski said, "but it's a new adventure. People should come to try it out as there's something new every week."
For information, call the Chamber office at 457-3895.
Vote on this Story by clicking on the Icon