The New York Power Authority grants the village a set amount of hydroelectric power (from the generators on the Niagara River near Niagara Falls) each month. Under the village's current usage, the hydroelectric power accounts for about 92 percent of village power. The remaining 8 percent has to be purchased from fossil fuel burning plants. However, that 8 percent accounts for 40 percent of the village's monthly bill because it is considerably more expensive than the hydroelectric power.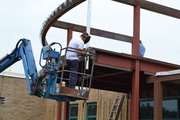 Extra solar power from the new village hall would be added to the grid and could potentially reduce, or even eliminate the village's need for non-sustainable power, and lower resident's bills.
The building also contains a number of other environmentally friendly aspects.
High-efficiency LED light bulbs were installed in the ceilings, many of which run on motion sensors, so that they are not left on overnight or when nobody is around. The building contains a number of "solar tubes," which bring natural light into the building from the roof via highly reflective tubes. The New York Power Authority will also be installing three electric car charging stations in the parking lot of the building at no cost to the village.
Another unique aspect of the design is a geothermal heating and cooling system. Four 450-foot deep geothermal wells were drilled behind the building during construction. Pipes containing the liquid glycol run from the building down the underground wells and use the natural temperature of the ground to heat and cool the building, and heat the building's water. The system uses electricity for its compressor, but is still much more efficient than a traditional heating and cooling setup, Lotkowictz said.
Most of the energy-efficient and environmentally friendly aspects of the design will pay for themselves quickly by lowering monthly power usage and maintenance costs, project architect Connie Brace of QPK Design said.
Vote on this Story by clicking on the Icon