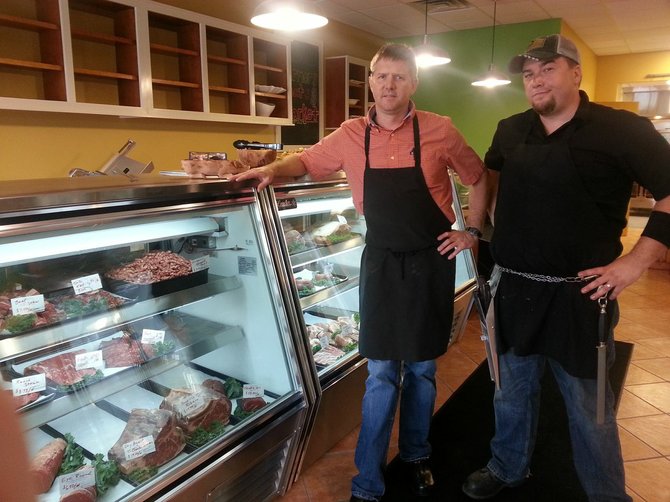 continued — The Side Hill slogan is "meat your grandmother would recognize" because Rhoad and McCann are hoping to make their store similar to what butcher shops used to be like in the early 1900s.
"This is an old-school butcher shop," said Rhoad. "An old service you just don't see anymore. At the grocery store, 90 percent of the meat is packaged in Styrofoam and it all looks the same. We're going back to a more customer- oriented form of service. We're trying to custom-cut meat for our customers, it's what our grandparents grew up with."
McCann added, "I'll wrap something in paper and people gasp and say 'I remember when they used to do that!'"
Another thing that the Side Hill guys pride themselves on is the fact that when they receive an animal to slaughter, they use every last bit of it – nothing goes to waste. They manage to find a use for even the most obscure parts of the animal.
"I've got pig skins that I roasted up for dog treats," McCann said. "The bones eventually go into soup. The fat that's left over will be rendered off and we'll have blocks of lard that people can make pie crusts with. We grind the organs up to make raw dog food."
The downside to receiving whole carcasses as opposed to a box of a dozen tenderloins, for example, is what McCann calls "the Noah's ark syndrome": there's only two of everything on the animal. But he's prepared to help customers make substitutions if he doesn't have exactly what they want in stock.
"At some point, we'll have to have that conversation and say 'no, we don't have what you want, but this could also work for what you're looking to do,'" he said. "I'm not a butcher in a grocery store, cutting up meat with no idea how to prepare it. Here, it is as much about the relationship with the customer as it is with the farmers."
Rhoad and McCann have their sights set high. They said the Manlius store is just the beginning: they're hoping to open the food hub around Canastota within the next year and want to open at least two more retail and food stores in the greater Syracuse area. For more information about Side Hill Farmers, call 682-MEAT or visit sidehillfarmers.com.
Vote on this Story by clicking on the Icon