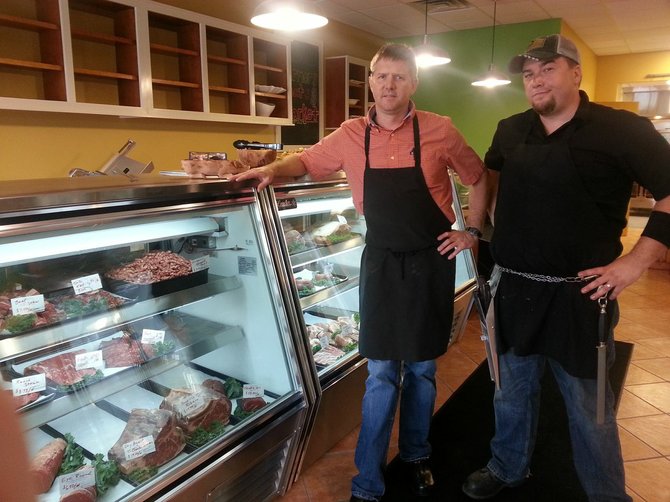 continued — Soon after they had the idea, they realized that they needed a face of the company. They decided upon a butcher/retail shop where they could highlight all of the farmers' products – and that's where Side Hill Farmers comes into play.
Rhoad, who has worked locally as an executive chef for the past 25 years, was looking for a new project in Central New York. And McCann, who attended the Culinary Institute of America and had worked in New York City kitchens for a number of years, decided to come back to his hometown of Chittenango to get involved in something new. When they met Tollman and O'Mara through mutual friends, it all clicked.
Side Hill officially opened for business on July 1 and has everything from beef, to pork, to lamb, to poultry available daily. But the store is still far from being complete – over the next few weeks, Rhoad, McCann, and the prepared food chef, Emily Prial, are working on getting fresh produce, cheese, butter, milk, canned goods, flour and more to fill the empty shelves. They're also working on setting up a sandwich station, where they'll offer a couple different sandwiches and salads for customers who want a quick meal. They expect the store to be complete within the next two weeks.
But more importantly, Rhoad and McCann can't wait to meet and educate their future customers about their products: how they're grown, what's in season and how to prepare the different kinds of meat. McCann, the head butcher, said they're excited to be the bridge between their customers and the farmers.
"Nowadays, everybody's looking for that connection with their local farmer, everybody's going to farmers markets," he said. "Everybody wants to be able to say 'oh, Bill the farmer? I know Bill the farmer, that's who I get my stuff from and I see him every week at the farmers market.'"
Vote on this Story by clicking on the Icon