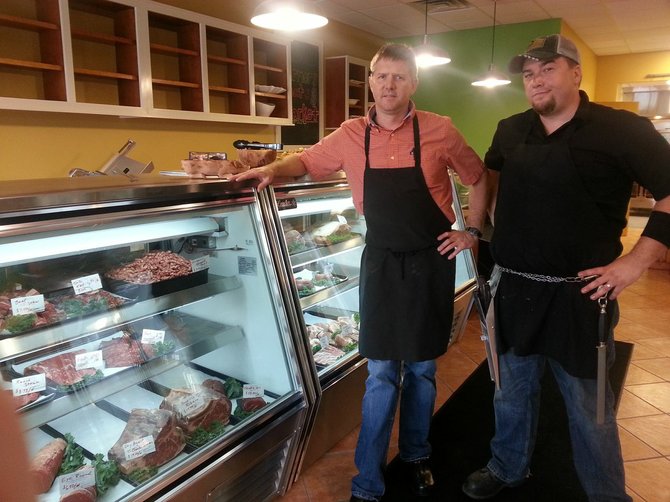 Manlius — Greg Rhoad and Kevin McCann know firsthand that many Central New York farmers have to bring their products down to New York City or into Pennsylvania to sell them- which is a trend that they want to see end. And that's part of the reason why they've opened Side Hill Farmers in Manlius: a cross between a grocery store and a food cooperative that only sells products from within an 80 mile radius of the store.
"It's not like being in a huge grocery store with 35 different brands of the same product to choose from," said Rhoad, the managing chef at Side Hill. "We're trying to choose the highlights from our area and people who are raising their animals humanely and without growth hormones or antibiotics. We're not organic, we're not grass-fed – we're selling good quality local product to local customers. We're trying to keep it here so that the money stays here and it all goes full circle."
Side Hill has been eight years in the making, and was started by two Madison County farmers – Bee Tollman, from Cazenovia, and Paul O'Mara, from Canastota. More than anything, Tollman and O'Mara wanted to band local farmers together to drive economic development and revive some of the economic and agricultural issues that they'd been experiencing over the past few years. Their first step was to form a cooperative, called the New York State Meat Farmers Cooperative. But don't be deceived by the name - all kinds of farmers have since joined and the organization is not restricted to just meat farmers.
As the cooperative grew, a Community Supported Agriculture group was established for those interested in purchasing fresh, local meat once a month from the farmers. But Tollman and O'Mara soon realized that they needed more room to accommodate their growing customer base. So they came up with the idea of a food hub for Madison County farmers, which would be a place where anyone could use freezer and refrigerator storage space and distribute and process their food.
(Continued on Next Page)
Prev Next
Vote on this Story by clicking on the Icon