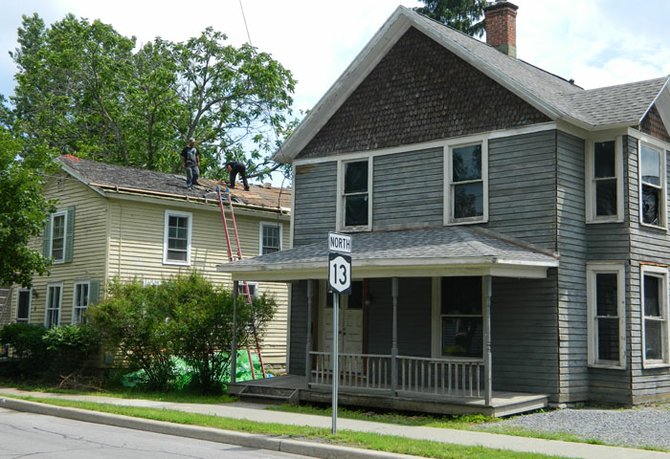 Cazenovia — Two houses at the end of Farnham Street near the Albany Street intersection may soon be rezoned from a residential to a commercial district to make way for two new food-related businesses and a new fire department parking lot.
The zone change requests were addressed by the village board of trustees at its regular monthly meeting on July 1.
Cazenovia resident Susan Light recently purchased the colonial-style, two-bedroom house at 8 Farnham St. intending to refurbish the structure and put a commercial-grade kitchen on the first floor and use the two second-floor rooms as office space. The first floor would support two small local food-related businesses: Light's specialty desserts and wedding cake business and a heat-and-serve dinner meals business by town resident Jen Wong.
In a letter to the village board dated June 17, and again during the July 1 board meeting, Light said her repurposing of the house at 8 Farnham St. would offer several benefits to the village, such as contributing to the rejuvenation of the Farnham and Albany streets area, the business — the exterior of the building would retain its 1848 residential appearance — would serve as a buffer between the commercial section along Albany Street and the residential section that runs north on Farnham Street and the two new businesses would contribute to the local economy.
Trustee Jim Joseph asked about current parking available and anticipated for the repurposed building, which currently has only two spots, and if Wong's business would be delivery or pick-up.
"I think you're on to something and will be very successful," Joseph said. "But I could see a parking issue."
Light said her business will be appointment-only, while Wong said she could see her prepared meals business going either delivery or pick-up depending on parking accessibility on Farnham Street. Light added that both businesses are taking a smaller, "artisanal" approach to the endeavor rather than a large-scale, commercial approach.
(Continued on Next Page)
Prev Next
Vote on this Story by clicking on the Icon