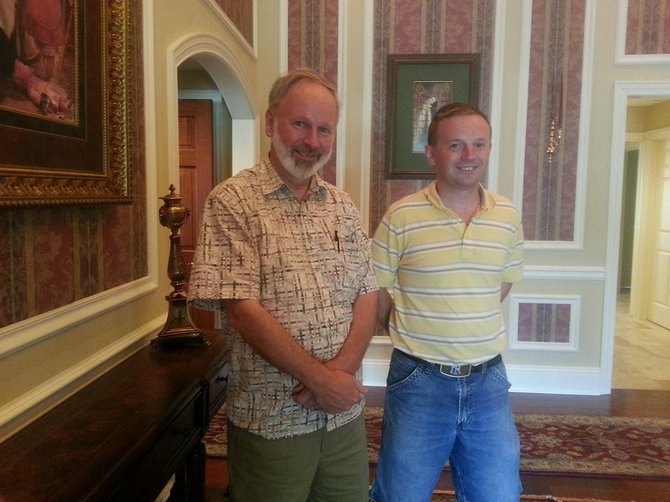 continued — "People in our society are very distant with death," Schepp said. "Before 1900, death was a part of life. Many infants died and many women died in childbirth. Death was a part of life and you saw the things that happened to a dead body. Today, we sanitize it – people die in hospitals and nursing homes and everything is hush-hush."
Meanwhile, Tom Schepp's father, Russell Schepp, began working for his uncle Ernest in the furniture store while he was in high school, which is where Tom believes he became interested in becoming an undertaker. After graduating from Minoa High School in 1934, he went to embalming school and received his undertaking and embalmers licenses in 1938. He would later go on to work as the janitor and first bus driver for the Minoa School and become the Minoa zoning officer and later on, the mayor. "The village of Minoa was his life," said Schepp.
In 1950, Russ built a new funeral home on East Avenue, which also served as his residence, and operated as the Minoa facility until the grand opening of the new facility last week.
Tom began working for the company in 1979 and said that he's had this vision from the very beginning.
"I foresaw that, financially, the days of the small, family-run funeral homes were numbered," Schepp said. "So that's what I've spent my entire career doing – I took a bunch of small funeral homes and put them together, under one operation. That allows us to maintain a community presence in Fayetteville, Manlius and Minoa."
In 1985, the Schepps purchased the Eaton-Tubbs Fayetteville Chapel on East Genesee Street and built a new facility in 1992. In 1999, they bought the Newell-Fay Manlius Chapel and rebuilt it in 2004. And they finally opened the new Minoa facility last week.
Vote on this Story by clicking on the Icon