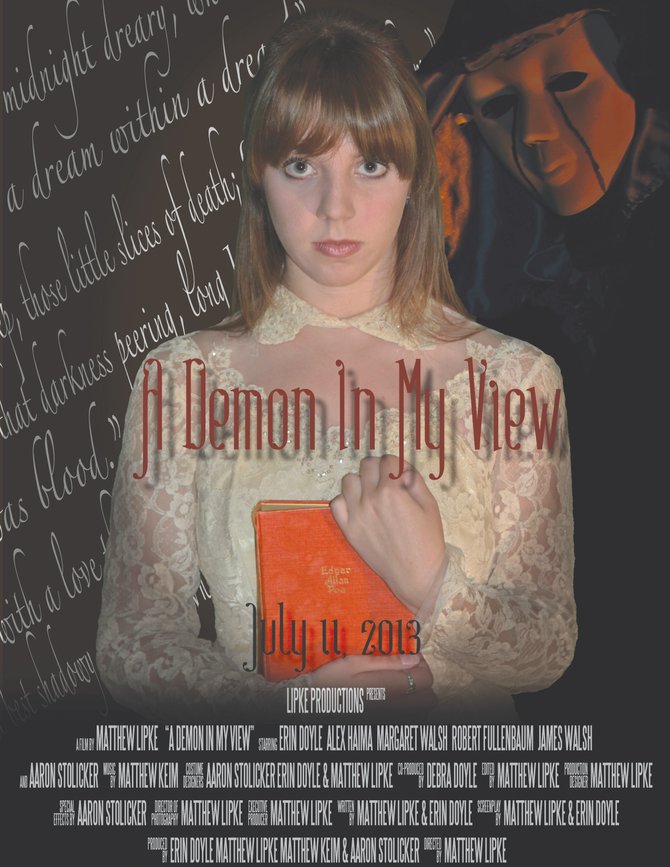 Mattydale — They're at it again.
Yes, those kids from Baker High's Class of '11 continue to create untold terrors.
Last year, director-screenwriter Matthew Lipke and company released their first feature-length movie, "Whiskey Hollow," which explored the bloody legends of Baldwinsville's Whiskey Hollow Road.
This year, Lipke Productions expands its horror horizons with "A Demon in My View," a psychological thriller inspired by the life and writings of Edgar Allan Poe. The movie stars Erin Lynn Doyle, also from the Class of '11, who co-wrote and produced "Demon" with Lipke.
She plays the movie's central character, Leah O'Connell, a freshman at Nolan University who's haunted by memories of her parents' brutal murder 10 years prior. The only clue left by the slayer was a scrap of paper with a quote from Edgar Allan Poe. Now, people in Leah's life are dying mysteriously, and Poe poems turn up again at the death scenes.
"Leah has to make the connection between her past and her present," Doyle said, "and learn to trust her instincts again before it's too late."
The movie's entire creative team attended Baker High. "Seeing that we all still live in the area when we return on breaks, a large portion of the film was shot in Baldwinsville," Doyle said, "though we also shot portions of the film at Syracuse University and in Rochester."
"A Demon in My View" will premiere at 9 p.m. Thursday, July 11, at the Hollywood Theatre, 2221 Brewerton Road, in Mattydale; 454-0321. Admission costs $10, and all proceeds will benefit the American Cancer Society, Lipke said.
Although the videography, soundtrack, editing, writing and acting are primarily done by 20-year-olds, judging from its trailers "Demon" comes off as a remarkably mature movie.
Lipke first started making small films about 2006 with his friends and cousins. "I really love writing and making films," he said. Lipke, who majors in environmental studies at the University of Vermont, used kickstarter.com to help fund "Demon."
(Continued on Next Page)
Prev Next
Vote on this Story by clicking on the Icon