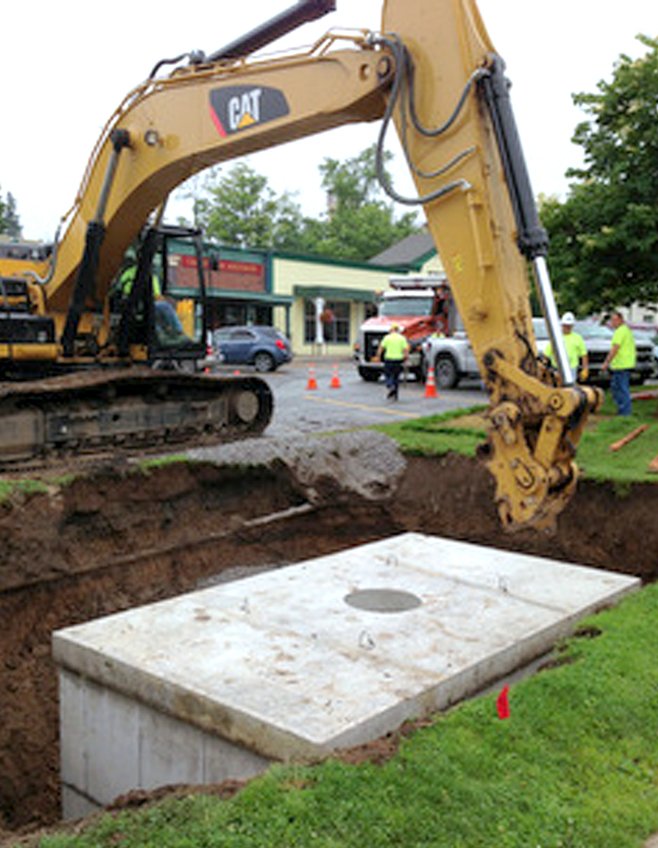 continued — To reduce the volume of stormwater to the sewage treatment plant, the GHD design calls for redirecting the stormwater away from the sewer vent line and into a separate stormwater drainage line at the collection point on the roof. The new system will direct the stormwater into underground storage cisterns — the large concrete boxes that were set in the ground last week. From these cisterns, the captured stormwater will slowly infiltrate into the ground, completely bypassing the sewage treatment plant and recharging the groundwater.
These cisterns are designed to allow overflow into the existing stormwater system during times when the capacity of the cistern is exceeded. The GHD design also calls for the installation of dry hydrants at each cistern. These dry hydrants will allow the fire department to use the water in these cisterns to test and maintain the pumps on their trucks. This re-use of stormwater will help to conserve the water in the village of Cazenovia water system.
The storage cisterns are installed underground in two places: adjacent to the parking lot in front of Dave's Diner on Albany Street, and under the parking lot behind the Catherine Cummings Theater on Lincklaen Street. The construction of the project begins in July and ends by the fall.
An information session about this project will be held at 5:30 p.m. Tuesday, July 23, at the Cazenovia Village Hall, 90 Albany St. Questions about this project can be directed to Tim Carpenter of GHD at 679-5833. Questions about the information session can be directed to Kerry Thurston of EcoLogic LLC at 655-8305.
Kerry Thurston, an environmental scientist at EcoLogic, is supporting GHD and the village of Cazenovia with public education and outreach regarding the village stormwater remediation project.
Vote on this Story by clicking on the Icon