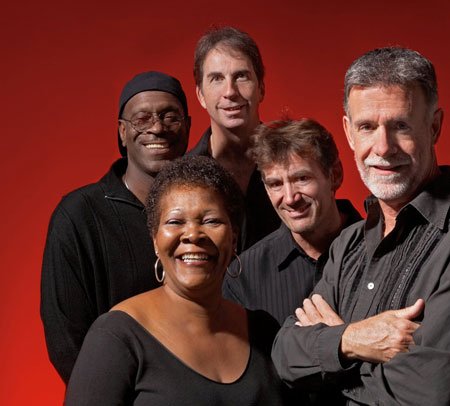 Dave Hanlon's Cookbook, winners of three of the prestigious SAMMY Awards, is well known to Central New York audiences for their high-energy rhythm and blues dance-oriented performances. This highly-talented and musically versatile five-piece band plans to win over new fans and keep the existing ones calling for more when they perform July 4 at a free concert on Skaneateles Lake.
Presented by the Skaneateles Area Arts Council, the concert will be held from 8 to 10 p.m. at Clift Park on Skaneateles Lake. "This is the best way to kick off the summer," said Holland Gregg, president of SKARTS. "More than 1,000 people have attended the concerts in the past couple of years and Dave Hanlon will make this a great party for the community."
Dave Hanlon's Cookbook has shared the stage with many international artists, including Paquito D'Rivera, Tom Scott, Average White Band, George Benson, Bella Fleck, Charles Earland, the Manhattans, Karen White, Jeff Altman, The Rippingtons, and many more.
Cookbook has released three CDs including "DIG IN," in 1984, "Live from the Dinosaur BBQ," in 2004, and most recently, "Hot and Sweet," released in November of 2010. Cookbook is known for their high-energy live shows, driving people to the dance floor with their funky grooves, soulful energy and gospel driven vocals of original member, Ava Andrews. Rounding out the band is keyboardist Ed Vivenzio, guitarist Lee Tiffault, bassist Jimmie Spivey, and bandleader, drummer Dave Hanlon.
In addition to Cookbook's three SAMMY Awards, vocalist Ava Andrews, individually, has won a SAMMY for best R&B vocalist and Dave Hanlon has won the SAMMY Hall Of Fame Award.
This is the fifth edition of "SKARTS 'N the Park" — a free summer concert presented by the Skaneateles Area Arts Council (SKARTS) in Clift Park. It is sponsored Paul Cowley and Associates and the Skaneateles Press. For more information on SKARTS, visit skarts.org.
Vote on this Story by clicking on the Icon