Baldwinsville — Research & Marketing Strategies welcomes Bonni Nelson to its staff as the new team leader in the firm's onsite call center, QualiSight.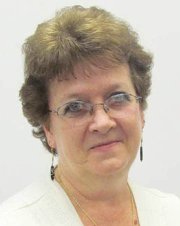 "Bonni has consistently exceeded project productivity goals as well as delivering quality results. She has proven herself to be a dedicated member of the QualiSight staff with the drive and commitment to lead the team," said QualiSight Manager Lauren Krell.
Nelson was promoted from the position of telephone survey associate, a position she has held for the past year. In her new role, she will be responsible for assisting Krell and QualiSight Supervisor, Mary Borland-Wainman, with the daily operation of the call center, providing leadership and support to the evening staff and on weekends as needed.
"Joining RMS provided me with an opportunity to utilize my experience working with the public and to enhance my customer service, leadership and teaching skills," Nelson said. "My goal is to always exceed client expectations and optimize their overall experience with the RMS QualiSight facility."
An avid reader with a passion for theater, movies and music, Nelson resides in Baldwinsville with her husband, Michael, and son, Casey.
Vote on this Story by clicking on the Icon