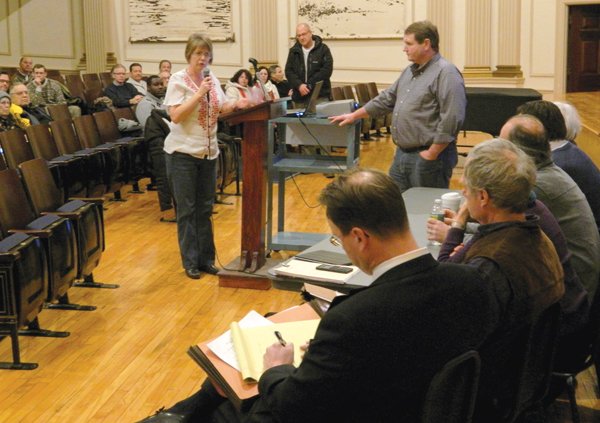 continued — Mark Whipple, of Owera Estates, said that Honeoye Lake near Rochester, which is a lake similar to Cazenovia Lake, put in sewer districts 35 years ago and there has been no improvement there in lake quality. "If this is not going to improve the quality of [Cazenovia] lake, how does that help us?" he asked. "We have to foot the bill for this."
Councilor Liz Moran, who is an environmental engineer, said the two lakes are in "different situations" and she believes the sewer district will improve lake water quality in Cazenovia. "We're trying very hard to control the sources [of phosphorous and other lake additives] that can be controlled, but in the meantime … septic is a big part of the problem that can be fixed by a modern sewer and water system."

A number of residents asked if they would be required to connect to the new sewer system even if they already have upgraded and high quality septic systems on their property, to which the town board answered yes, they would be required to connect — and pay for the connection — but would not be required to use it.
Marion Bickford, of Ormond Road, asked why, if new sewers would improve the lake and the entire town benefits from the lake, the entire town population is not paying for the project but only the affected residents in each new district.
Town Attorney John Langey said he has researched and spoken to state officials repeatedly on that issue and state law says that only the property owners who directly benefit from the system can be required to pay. "I've checked on that and New York state said absolutely not — it cannot be a town charge," he said.

Dunkle added, "Everyone who receives a benefit of the infrastructure has to be included whether they want it or not." He said if it legally benefits a property owner their inclusion is "an unfortunate consequence" of the way state law is written.
Vote on this Story by clicking on the Icon