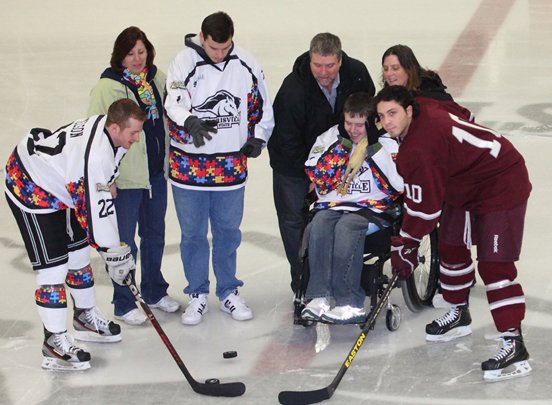 continued — "The coaches and I designed the [commemorative] jersey, all the guys helped put out some flyers for the game and a couple of the guys got the prizes for the silent auction, so everyone helped out. It was good," said Nelson, a Morrisville State junior majoring in business administration.
What was also a fitting and satisfying touch to the event was that Nelson's cousin, Jordan Sykes, who is autistic, joined the captain for the ceremonial puck drop at the beginning of the game.
On top of all that, what perhaps could not have been written any better was that Nelson ended up landing the game-winning goal with 1.2 seconds remaining in overtime to give the Mustangs the victory in front of those that had come to the IcePlex to support the charitable efforts of the hockey program.
"It was a good way to end the night, but as long as someone got that goal that was all that mattered," Nelson said.
The next week, the State University of New York Athletic Conference named Nelson the men's ice hockey player of the week for the week ending Jan. 20. Nelson posted one goal and two assists in the overtime victory over Potsdam, and in 19 games this season he has tallied five goals and 13 assists, registering 18 points.
"It's nice to be recognized, but it was more a stepping stone for our team than anything," Nelson said of the Jan. 19 victory. As for the successful autism awareness event, "It was a good event and I'm just glad it went smoothly," he said.
Each year, the Morrisville State hockey program reaches out to the community to raise funding and awareness for a not-for-profit organization that in some way has touched their lives for the greater good.
In recent years, their efforts have led to more than $12,000 that has been donated to Saves For a Cure, the Muscular Dystrophy Association and now Autism Speaks and The Kelberman Center Inc.
Jason Emerson is editor of the Cazenovia Republican. He can be reached at editor@cazenoviarepublican.com.
Vote on this Story by clicking on the Icon