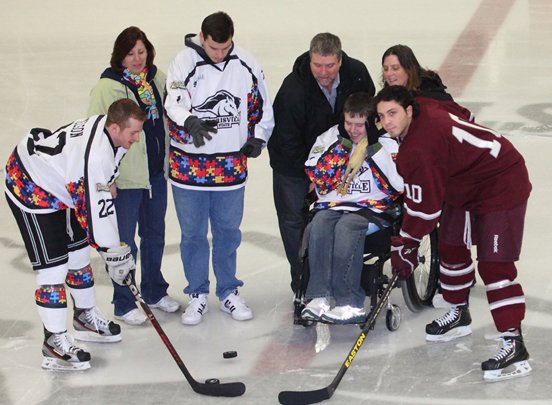 Morrisville — The ending couldn't have played out any more perfectly than it did Saturday night, Jan. 19, when Morrisville State College men's ice hockey took SUNY Potsdam into overtime and posted a dramatic 5-4 State University of New York Athletic Conference victory.
But what meant more than just the win on the ice was the game that was being played to raise awareness for autism, and ultimately gathered nearly $4,000 through ticket sales, raffles and other events.
"Every year the team helps out in the community and picks a charity and cause to support. This year I chose to talk to the guys and see what they thought about autism," said Morrisville Mustangs Captain Jamie Nelson, who organized the autism awareness event. "When I asked the guys about it they all thought it would be a good idea."
Autism, in fact, is near to the heart of the hockey program, as Nelson's first cousin was diagnosed with autism at a young age; Mustangs Assistant Coach Ted Fauff has two nephews who are autistic and some of the team members' parents work with special needs children, especially those with autism, Nelson said.
The Jan. 19 event ultimately raised $3,900 for Autism Speaks and The Kelberman Center Inc., through donations received at the gate, raffles, a silent auction of two hockey sticks and one jersey signed by NHL players and an online commemorative jersey auction that donned the jigsaw puzzle pieces identifiable to autism awareness.
Autism Speaks is the world's leading autism science and advocacy organization, dedicated to funding research into the causes, prevention, treatments and cure for autism; increasing awareness of autism spectrum disorders; and advocating for the needs of individuals with autism and their families. The Kelberman Center, based in Utica, is a regional center for excellence for individuals with Autism Spectrum Disorder.
(Continued on Next Page)
Prev Next
Vote on this Story by clicking on the Icon