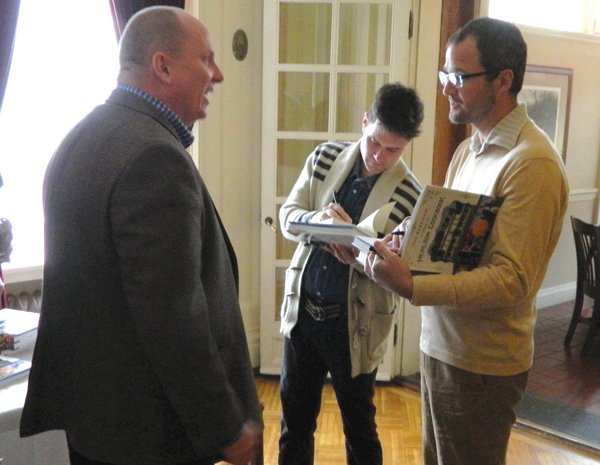 continued — Attendees were treated to a tasting of recipes from the Beekman 1802 cookbook at five buffet-style stations around the first floor of the Lincklaen House, including deviled eggs with smoked trout, corn chowder salad, quick bread-and-butter pickles, beer-braised beef with onion dumplings and macaroni and cheese with mushrooms and kale.
"This is a good thing to do on a cold January day," said Teresa Godiers, whose daughter, Kate Godiers, had brought her mother to the event and bought her a copy of "The Bucolic Plague" as a birthday present. "We watched them on 'The Amazing Race,'" Kate Godiers said. "I didn't think they were going to win but they did."
Other "Amazing Race" fans who came to the Lincklaen House event were pre-teens Jessa Davidson and Sadie Tenenbaum, from Fabius, along with their mothers.
"We saw them on 'The Amazing Race' and are big fans," Davidson said. "We got their autographs and cookbooks for our moms."
"We met them before at the [Sharon Springs] Harvest Festival and we're hoping to go again this year," Tenenbaum said.
Also at the event were two of the "original Sharon Springs groupies," Kathy Bunting, of Hamilton, and Marilyn Engle, of Oriskany Falls. "I've been fascinated with Sharon Springs for 20 years and all this [exposure from the Beekman Boys] is like a dream come true," Engle said. "Everyone there is so nice, and it's just a simpler way of life."
"I never miss a chance to stop at Sharon Springs," Bunting added.
At the end of the signing event, Kilmer-Purcell and Ridge were going to attend the Burns Night 2013 at the Brae Loch Inn, "and try the haggis," Ridge said as his partner gave him a wary look.
Linda Hunt, HCBD program co-chair of the event said Kilmer-Purcell and Ridge plan to write a blog about their visit to Cazenovia and the Brae Loch's Burns Night 2013. For more information about the Beekman Boys and their Beekman 1802 lifestyle brand, or to read their blog, visit Beekman1802.com.
Jason Emerson is editor of the Cazenovia Republican. He can be reached at editor@cazenoviarepublican.com.
Vote on this Story by clicking on the Icon