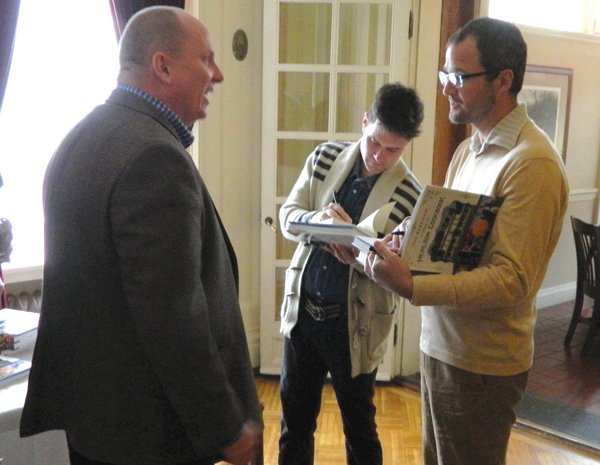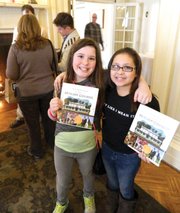 Cazenovia — Nearly 200 people from towns and villages across Central New York descended on Cazenovia this past Saturday, Jan. 26, to meet, have books signed by and taste the recipes of Josh Kilmer-Purcell and his partner Brent Ridge, popularly known as "The Fabulous Beekman Boys" — authors, entrepreneurs, stars of a reality cooking show and winners of the latest season of television's "The Amazing Race."
Kilmer-Purcel and Ridge did a special book signing event at the Lincklaen House to promote their recent work, "The Beekman 1802 Heirloom Cookbook." The event also was a fundraiser for the Historic Cazenovia Business District committee of the chamber of commerce.
"What a beautiful town," Kilmer-Purcell told the Republican as he and Ridge stood by the large fireplace of the Lincklaen House's dining room signing books, while a long line of eager people waited their turns.
"What great people, and a fabulous turnout," Ridge added as he waved a hand toward the three rooms full of people mingling, talking and tasting various Beekman 1802 cookbook recipes.
The event, sponsored by multiple local businesses, sold about 160 tickets before the event began and another 20 or so at the door, said program co-chair Linda Amaral. Initially, the HCBD had hoped to sell about 100 tickets, "so we exceeded our expectations," she said.
"This is awesome, just awesome," said Anna Marie Neuland, executive director of the Greater Cazenovia Area Chamber of Commerce. "This didn't only bring out people in Cazenovia, but also from Sharon Springs, Munnsville, Tully, Syracuse, Canastota and Verona. It's a great event for Cazenovia."
The event was scheduled to run from 3 to 5 p.m., but so many people attended that Kilmer-Purcel and Ridge eschewed any opening remarks and went right into signing books by about 2:45 p.m. and still had a line formed around them after 5 p.m. In addition to their books "The Beekman 1802 Heirloom Cookbook" and Kilmer-Purcell's New York Times best-selling nonfiction book, "The Bucolic Plague: How two Manhattanites became gentleman farmers: An unconventional memoir," — of which they had sold more than 150 copies total by 5 p.m. — there also were Beekman 1802 t-shirts and coffee mugs for sale.
(Continued on Next Page)
Prev Next
Vote on this Story by clicking on the Icon