Baldwinsville — She may have been raised in Russia, but vocalist Luba Lesser has a natural flair for the sounds of Brazil. The gifted singer will perform bossa nova tunes with guitarist Jason Kessler and bassist Mike Solazzo at 1 p.m. Sunday, Jan. 27, to open the second annual January JazzFest at Mohegan Manor, 28 Oswego St. in Baldwinsville.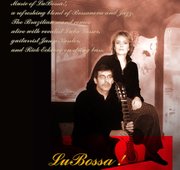 Over the course of the day, from 1 to 9 p.m., many of the best jazz musicians and vocalists from CNY will entertain at the mid-winter festival hosted by CNYJazz Central and sponsored by Seneca Federal Savings & Loan Association.
CNY Jazz Central Director Larry Luttinger, who lives in Liverpool, said Mohegan Manor is a "fantastic" venue for the festival. "The historic location features four floors where we can stage jazz, blues, Latin and cabaret performers along with food and drink plus our silent auction," he said.
Sunday's JazzFest features headliners Tony Monaco and singer Cookie Coogan as well as Jeff Stockham's Jazz Police, E.S.P. and Friends, the Jim O'Mahoney Trio and the New York State Rhythm & Blues Fest S.O.S. Band. Last year's S.O.S. Band features guitarists Mark Hoffmann and Todd Fitzsimmons, drummer Dave Olson and harmonica master Skip Murphy.
Soprano Luba Lesser started playing piano when she was 4. At age 8, she began singing with the Children's Chorus of the State Radio and Television in Moscow. When she was 19 in 1991, she moved from Russia to the United States.
Over the years, Lesser has sung with several groups including the Syracuse Chorale, Syracuse University Oratorio Society and the Syracuse Opera Chorus. She earned a master's degree in voice from the Syracuse University School of Music where she studied with Janet Brown.
With LuBossa, Lesser teams up with guitarist-vocalist Jason Kessler performing new renditions of both familiar and exotic bossa nova melodies. The two singers – she a soprano and he a baritone – bring a unique warmth and sophistication to the Brazilian compositions, many rendered in their original Portuguese. LuBossa often perform tunes such as "Corcovado," "Dindi" and "Once I Loved."
(Continued on Next Page)
Prev Next
Vote on this Story by clicking on the Icon