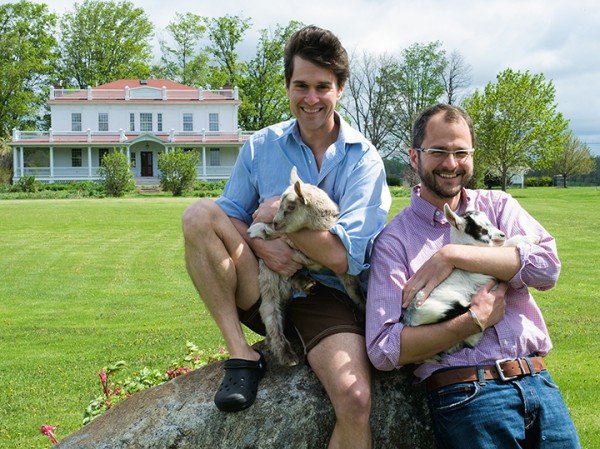 continued — Beekman 1802 has been called one of the "fastest growing lifestyle brands in the country," according to Nasdaq. Kilmer-Purcell and Ridge share what they call "the Beekman message" of hard work, living seasonally, and neighborly sharing around the globe, as it states on their website.
"Everyone's very excited about this. People have been coming in and buying five and six tickets at a time," said Laurie Hunt, program co-chair, along with Linda Amaral, the two of whom who are responsible for devising and bringing to fruition the visit to Cazenovia of the nationally-acclaimed "Fabulous Beekman Boys."
"I think they're really fascinating guys — area heroes [and] I like what they're doing: promoting buying local," Hunt said.
This idea of buying local and promoting local businesses is in fact the main reason for the Beekman event, Hunt said. The visit of Kilmer-Purcell and Ridge will be used not only as a fundraiser for the HCBD but also as a public relations event to promote and improve the Cazenovia brand as a destination, she said.
"The reason we're doing this is we need tourism money. We need to get Caz out there as a tourist destination," she said. "I think we're on the cusp of this as a destination and we need to start finding a way [to make it happen]. Tourism will be a major factor in bringing in tourism money, and we need it desperately."
This local promotion and even regional symbiosis is what Beekman 1802 is all about, Ridge said. "We all have to support each other as much as possible. No one from outside New York state is going to do that for us. We have to get back to that agricultural resiliency this past of the state has always had," he said.
The visit of "The Fabulous Beekman Boys" to Cazenovia is expected to generate — and already has generated — a lot of interest both in Cazenovia and around Central New York. About 70 tickets already have been sold for the event, and the HCBD hopes to sell at least 100, although they have printed 300 tickets and have "no limit" to how many they can sell, Hunt said.
Vote on this Story by clicking on the Icon