continued — "Everything in the design field starts with a creative vision," said Riley Battaglini of Endicott and Cicero. "This advertising campaign for Stride Gum shows a process beginning with an idea and ending with a refined project."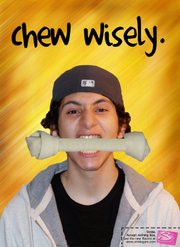 "Advertising is one of the avenues I'm interested in as a career, so the opportunity to do a campaign that Stride commissioned was a great learning opportunity," said Noelle Sippel, of Webster.
"Then they had to execute their concepts in a professional, finished way for the final entries. The ability to work on a project for a national client, knowing that the client would actually be reviewing the work and that it could potentially be selected to receive a major award really seemed to inspire the students," Jensen said. "I think they did a great job."
Launched in 2005, the One Show Young Ones Competition is produced annually by The One Club, the world's foremost nonprofit organization whose mission is to champion excellence in advertising, youth education and diversity in the field. The competition is open to students from colleges, graduate schools or portfolio schools who are enrolled in an accredited advertising or graphic design program at time of entry.
The Visual Communications Bachelor of Fine Arts Program at Cazenovia College offers students the opportunity to pursue studies in one or more of five different concentrations: general visual communications, graphic design, illustration/animation, web design/interactive and advertising design.
Cazenovia College, founded in 1824, is an independent, co-educational, baccalaureate college offering a comprehensive liberal arts education in an exceptional community environment, with academic and co-curricular programs devoted to developing leaders in their professional fields. Cazenovia, named one of "America's Best Colleges" by U.S. News & World Report, is also a national College of Distinction. 
For more information, visit cazenovia.edu.
Vote on this Story by clicking on the Icon