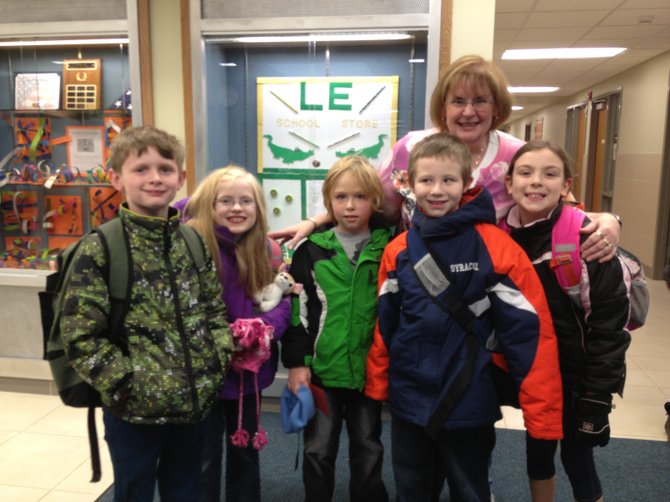 continued — "Kay pushed me to explore my Irish heritage, something that seemed both logical and difficult: Logical because I was already connected to the music and close to the legacy of the Irish-Catholic traditions. But difficult because my father had died just months before, so I was still mourning," Rys said.
Gradually, however, the idea took hold. Rys found an ancient Celtic legend suitable for the project and decided to put music behind the words. "After all," she said, "words and music and stories are all interwoven in my mind. I grew up with music. The Clancy Brothers were the soundtrack of my youth." Lindauer helped and supported Rys, but she did not respond to students' presentations in class. After the class ended, however, Rys received a two-page handwritten letter that praised her work and encouraged her to continue to tell stories.

"I think Kay loved me for no good reason," Rys said. "But her encouragement was treasured. She's an amazing teacher. Wherever she goes, there is a light." With Lindauer's encouragement and her own growing desire to share stories, Rys became a member of the Salt City Storytellers, performed at local events, and began to use her newly acquired, magical craft in her teaching. She knew it would be a powerful skill for students to develop.
In 1998 Rys started a storytelling club at Elmcrest Elementary School. When she moved to teach at Liverpool Elementary, she created a club at her new school. Members learn a combination of public speaking, theatrical interpretation, memorization, and visual presentation skills.
"Most importantly, they learn how to listen critically and respond with reasoned feedback for one another," Rys explained. "I ask the pupils to consider certain criteria. What did you like about what you just saw? Now, think why you liked it? What made it work so well? What would have made it better?"
Vote on this Story by clicking on the Icon