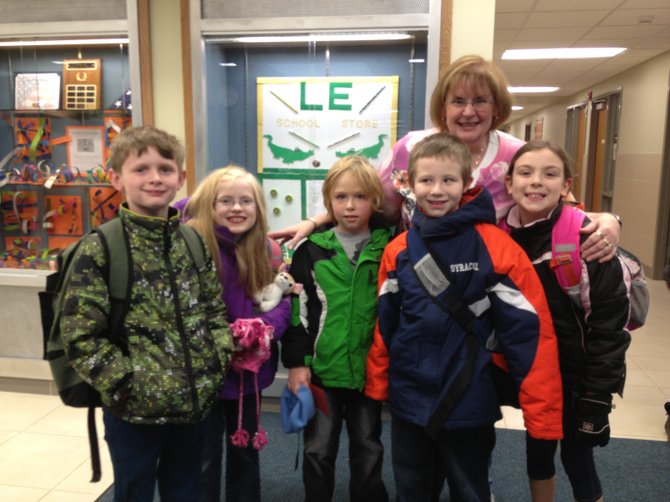 Liverpool — Language and story form colorful threads that run through the fabric of Mary Shea Rys's life. From her earliest years, she absorbed the language of her elders. She listened as her grandfather read stories to her and her siblings, and she listened as her father told them tales of their heritage and of his adventures at work.

Joyful Noise: An Afternoon in the Arts
What: Music, visual arts, storytelling.
When: 4 p.m. Sunday, Jan. 27. Doors open at 3:30 p.m.
Where: Liverpool First United Methodist Church, 604 Oswego St., Liverpool.
Free parking in church lot. Call 457-5180 for more information. Free and open to the public. Refreshments will be served.
"He was a New York City cop for 30 years," Rys said. "And in the family, he was the seanachie, the storyteller."
Now, miles away from the Irish-American home where she grew up and years from her tell-me-a-story girlhood, Liverpool's 2011 Teacher of the year has a growing reputation herself as a teller of tales, a seanachie (pronounced shawn'-a-key). She will share her art in a creative workshop Sunday, Jan. 27, as part of a child-focused event, "Afternoon in the Arts," sponsored by Joyful Noise Concert Series for the Community. The free concert begins at 4 p.m. in the sanctuary of Liverpool First United Methodist Church, and activities — including a hands-on workshop with a visual artist, opportunities to try playing various instruments, and the story workshop.
Talking about her love of words on a recent Friday evening, Rys is surrounded by books in the media center of Liverpool Elementary School. She gets so excited about her passion for stories, children, music, teaching, and well, pretty much everything, that she sometimes neglects to complete one sentence before moving on to the next. Her rush of thoughts is attributable to her enthusiasm, and that enthusiasm contributes to her success as a storyteller. It's a craft she has honed since 1996, when she took a course from "the brilliant Kay Lindauer" at University College, SU's part-time program for adults. Rys recalls that Lindauer asked each student in the class to prepare and present a 45-minute program.
(Continued on Next Page)
Prev Next
Vote on this Story by clicking on the Icon