continued — His images of the natural beauty of the region and the dishes, just as they emerged from oven or pot, perfectly complement the book's tone of local living.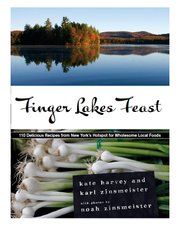 "Finger Lakes Feast" is also a piece of reporting — the story of a real food revolution now coming to fruition.
Central New York is becoming nationally renowned for the quality of its fresh local food, its regional wine and its contributions to American gastronomy ranging from Greek yogurt to great fruits and vegetables, from Wegmans groceries to Riesling to artisan oils.
The region has become a hotspot for culinary tourists. The practical effects can be felt right in Cazenovia, where numerous farm-to-table restaurants, several community supported agriculture programs, Owera Vineyards, expanding farmer's markets, Critz Farm and Cidery, hydroponics and creative food processing at Morrisville College, the forthcoming Empire Brewery and other businesses built on superb local resources are the kinds of developments that are entrancing "foodies" from other parts of the country.
Local residents and readers can support the cultural and economic Finger Lakes food renaissance by buying local, supporting farm-to-table production and enjoying area opportunities for agritourism.
To read sample extracts of "Finger Lakes Feast" and learn more about ordering a copy, visit FingerLakesFeast.com.
Vote on this Story by clicking on the Icon