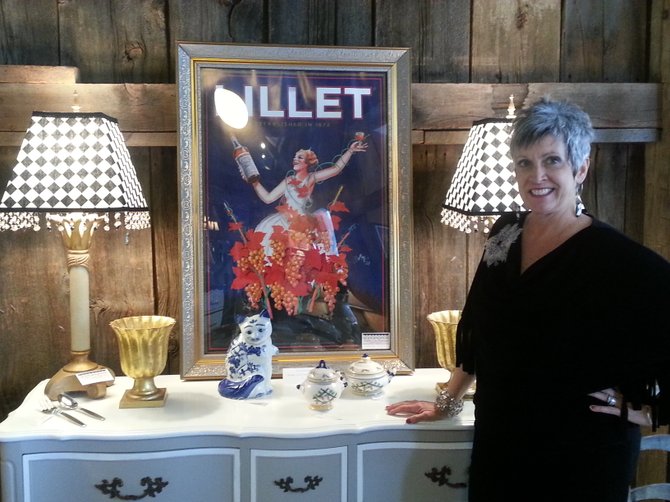 Fayetteville — It's hard not to stop in your tracks and look around when you first set foot in the Canal Barn, which houses Shabby Chic Boutique in Fayetteville. For one thing, the barn is three stories tall and is enormous. It's home to three small stores at the moment and Shabby Chic is the only one on the second floor. When guests walk upstairs, they are immediately greeted by owner Lisa Hogan and offered a cup of coffee or glass of wine. The classical music playing in the background along with the friendly, casual atmosphere of the Barn encompasses the shopping experience that Hogan has worked hard to create.
"I'm the only one in town doing this – there are antique places but when you walk in it's like a warehouse," Hogan said. "[Their merchandise] is just piled up, not set in vignette arrangements. I'm trying to create an experience where it's a destination to come here and you experience the entire thing through sight, sound, taste, touch, and feel."
The shop is set up with the furniture arranged so that depending on where you're standing, you could be looking in at a fancy dining room, or a cabinet in someone's camp in the Adirondacks, or a young child's bedroom. Don't let the arrangements fool you though, they are presented in sets, but everything at Shabby Chic is separate. Hogan thinks this is important given the various needs of customers today.
"If you want to buy just one piece, you can get one piece," Hogan said. "You don't have to buy the entire store. It's a matter of one of a kind, unique, functional and aesthetically pleasing pieces. That's what this is all about."
Hogan has a degree in business, but Shabby Chic is her first attempt at running one herself. The former sales rep was laid off about two years ago and realized afterward that she wasn't interested in rejoining the corporate world. She said that one day, when she was bored, she took an old chest from her house and painted it. She showed her family members, who insisted that she go into business – which is when she seriously started considering opening a boutique.
(Continued on Next Page)
Prev Next
Vote on this Story by clicking on the Icon