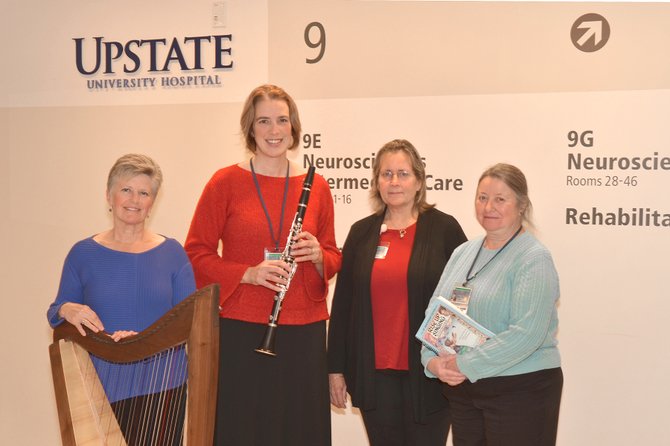 continued — All of the students agree that being a music practitioner is less about performing than it is about creating that healing environment.
That's especially clear to Libby Joyce of South Onondaga, a lifelong pianist.

"The instruction has had a transformative effect on my music," Joyce said. "My music is much more spiritual now; there is a therapeutic meditation element to my music and I find it very soothing."
Cicero resident Victoria Krukowski is most accustomed to playing Beethoven, Bach and Mozart in large concert halls, having played clarinet for more than three decades, most recently with the SSO. But the experience of playing for patients is most satisfying.
"This program has broadened my horizons," Krukowski said. "The instruction and the interactions we've had to date with patients make it clear that music, the piece you play and how you play it, are part of the healing process."
Participating in the internship portion of the program next year are Lida Black, of Syracuse; Nancy Haney, of Baldwinsville; Laura Jordan, of Baldwinsville; Libby Joyce, of South Onondaga; Victoria Krukowski, of Cicero; and Mary Tolone, of Mattydale.
Classes for the spring program begin in March. For more information contact Dona Wonacott at 303-4015.
Vote on this Story by clicking on the Icon