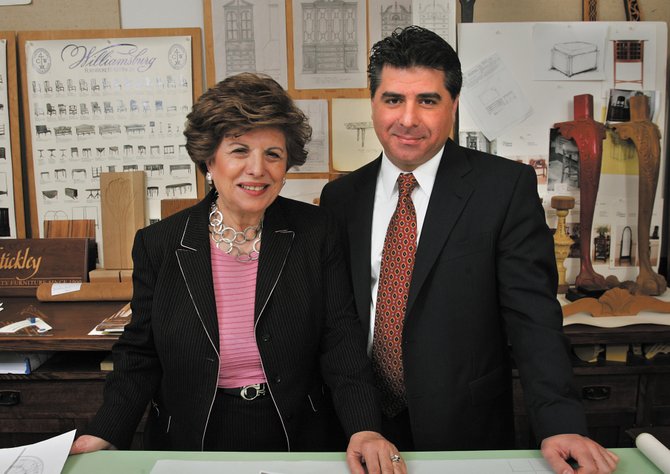 In 2007 he became responsible for the Manlius manufacturing facility and became president of Stickley International, a factory in Vietnam. He currently serves on the American Home Furnishings Alliance Board and the New York State Council of Parks Recreation and Historic Preservation, and previously served on the SUNY College of Environmental Science and Forestry Foundation Board and the Central New York Community Foundation Board.
He and his wife, Laila, reside in Fayetteville.
Forecast: continued growth
"We're committed to manufacturing and retailing here in Central New York and to growing here," Audi said. "Despite the economy over the past five years, we were able to maintain two shifts with no layoffs."
He said the community has been a factor in the success of Stickley.
"I want to acknowledge the tremendous support we have received from the Central New York community throughout the years," he said. "It's a region with fantastic talent, wonderful resources and a place I'm proud to call home."
He said they have recently had four people relocate to Central New York for key positions, and "It's been nice to see how pleasantly surprised they are by the quality of life and all that the region has to offer."
He also noted that the company continues to re-invest in its Manlius factory with new machinery and new technologies. "We're working hard to steadily grow the company and are once again hiring."
The company recently opened a showroom in Paramus, N.J., and hopes to open an additional five to six retail locations in Metropolitan New York and New England in the next three years.
But Stickley is not only expanding in terms of square footage.
"On the product side we continue to push forward in diversifying our offering," Audi said. "Our new casual [line] called 'Fingerlakes Collection' is a hit nationwide. People today are living more casually and this hand distressed collection made from solid wild black cherry has become extremely popular."
Vote on this Story by clicking on the Icon