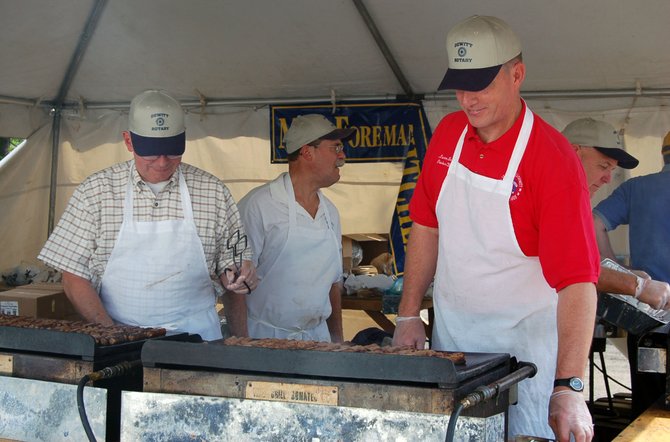 DeWitt — The griddles won't be heating up till May, but the Dewitt Rotary Club has already started collecting money for its biggest fundraiser of the year- Pancake Day. The event is essentially an all-you-can-eat pancake extravaganza in which volunteers make thousands of pancakes, complete with almost any kind of topping you could imagine. This is the rotary club's 59th year hosting Pancake Day and they're expecting over 5000 people in 2013.
The event started back in 1954 as a pancake breakfast in the basement of a Dewitt church and has since expanded to the well-attended event it is today. All of the proceeds go to local charities including the Jim and Julie Boehiem Foundation, the Samaritan Center, and various J-D school programs. Last year, Pancake Day yielded over $35,000.
The rotary club held its fundraising kickoff meeting on Feb. 11, during which, members were split into ticket selling teams to see which team can raise the most money. Club members have already sold $100 worth of tickets and Mark Strodel, PR director for the Pancake Day Committee said that this is the earliest they've ever started collecting money. He believes that the success of the event really depends on the teamwork and time put in by the club members.
"There are about 80 members in the rotary club and I would say about every member contributes in some way to Pancake Day. It's our main fundraiser and everybody pitches in, whether it be through ticket sales or ad sales," Strodel said.
Each year members of the rotary club put together the "Flapjack Review," to be handed out to the public on Pancake Day. The yearly newspaper is about 60 pages long and was created primarily to sell ads to raise money, but it also contains articles written by members to give the public an idea about what goes on each year in the rotary club.
Tickets for the event are $7 or two for $10 during presale. At the door, all tickets will be $7 and children five and under can eat for free. Although the nationally-recognized Pancake Day was on Feb. 12, the rotary club's Pancake Day starts at 7 a.m. on May 11 and runs until 3 p.m. Tickets are available on their website at dewittrotary.org.
"I'm not sure why they picked pancakes," Strodel said. "But we've stuck with it. [The event] runs like a well-oiled machine. I guess you don't change the format when it's a good thing."
Vote on this Story by clicking on the Icon