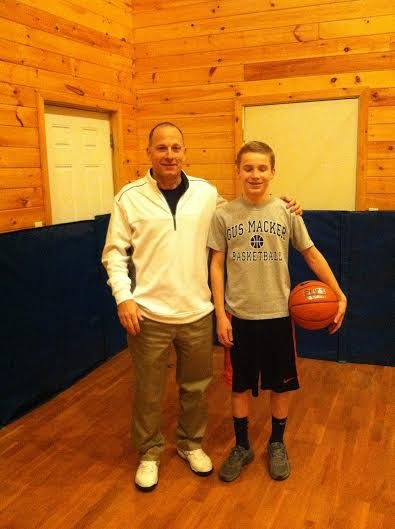 Baldwinsville — Gary Pluff sat next to an open campfire one summer night in the Adirondacks in 2011, thinking about how he could easily teach his then-11-year-old son, Casey, about how to become a better basketball player and a better person.
"So I just started writing things down and then thought, 'You know what? This would probably make a good book,' " Pluff said.
For the next two years, Pluff, a 52-year-old teacher from Baldwinsville, said he kept a paper folded up in his pocket and would jot down an idea whenever and wherever it came to his mind.
And when he published his 114-page book, The A-Z Basketball Book: What Every Player Needs to Know to be Great at the Game!, in August 2013, Pluff also came away with a learning experience of his own.
A for Attitude
Going into the project, Pluff said he had a vision of creating something that was easy to read, but also had all the important information. He had read similar books, like Stuff Good Players Should Know: Intelligent Basketball From A-to-Z by Dick DeVenzio, but thought the book was "too long-winded and too advanced" for young players.
"What I want to do is kind of cut to the chase and just say, 'Here's what you need to concern yourself with,' " Pluff said.
Starting with the letter "A," Pluff thought of simple words to remember: attitude, assist and adversity. Moving on to "B," it was ball-handling and boxing out. But Pluff kept going back to each letter and, instead of adding more basketball words, he added words dealing with character, leadership and goal-setting.
"(It's) stuff that's transferable to whatever you choose to do," he said. "I'm trying to give them life information and life skills, as well as basketball."
A few months after Pluff began writing Casey saw him sketching out definitions on a piece of paper while in Myrtle Beach, S.C. Although Casey didn't know if his father was going to turn those words into a book or not, he said he thought it was pretty cool when he saw the finished product a few years later.
(Continued on Next Page)
Prev Next
Vote on this Story by clicking on the Icon