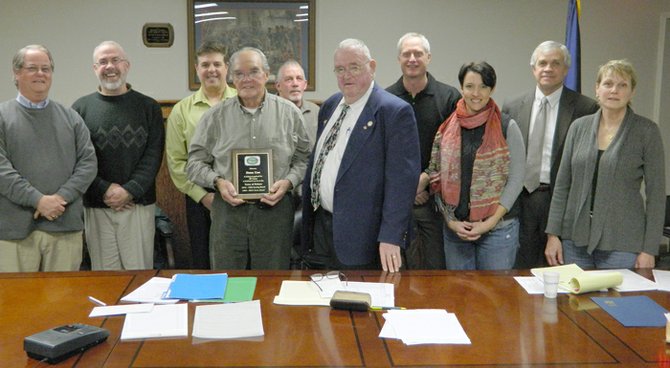 continued — Councilor Mike Costello said serving with Coe has "been a pleasure," and although they agreed on issues as often as they disagreed, Coe "always got things done and worked for the betterment of the community."
Town Attorney Jim Stokes, who has worked for Nelson for the past 20 years, said Coe "exemplifies public service," and he never worked for personal glory or attention but simply to help the town. "Your words always had meaning and really added a lot to the process," Stokes said.
John Dunkle, chair of the town planning board who has worked with Coe for the past 10 years, said, "For us young guys you are an incredible inspiration for what it means to be a community servant and … a community elder." Dunkle said that after board members discuss and sometimes argue over issues, during which Coe would silently listen, "you would offer two or three words of wisdom. This is what makes us work."
At the end of the board's official meeting, Coe, for the last time, called for the adjournment.
After Coe posed for pictures with the town board, with past and present town employees and with his family, everyone enjoyed cake and apple cider, talked with Coe and offered him their congratulations and best wishes on his retirement.
Jason Emerson is editor of the Cazenovia Republican. He can be reached at editor@cazenoviarepublican.com.

Vote on this Story by clicking on the Icon