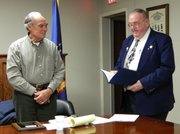 Nelson — Nelson Town Board member Dean Coe has served his town for the past 40 years — and at the board's Dec. 12 meeting, Coe's last before his retirement, the board, past town supervisors, and Coe's family and friends, all showed up to wish him a fond farewell.
"I'd like to recognize Dean for his 40 years of town service. I don't know if it's a Guinness Book of World Records [item] or not, but I believe your record of public service is safe. Forty years is more than a rarity," said Nelson Town Supervisor Roger Bradtsreet at the end of the board's regular meeting. Bradstreet also presented Coe with a plaque of recognition and thanks from the town. "You are truly dedicated [and] we appreciate everything you've done for the town."
Coe began his town service in 1973 on the town planning board, on which he served for 20 years. He was first elected to the town board in 1993, on which he has served ever since.
Coe, visibly moved by the plaudits and recognition, said he has enjoyed working with the current town board and all the town employees during his long tenure. "I always tried to work for the best interests of the people in the town of Nelson," he said.
Former Nelson town supervisor and current New York State Assemblyman Bill Magee, who served many years in town government with Coe, also was on hand to honor his friend and to present Coe with a citation from the state legislature honoring Coe's "steadfast dedication as an outstanding citizen and public servant."
State Senator David J. Valesky was also scheduled to attend the Dec. 12 meeting in Nelson but was unable to be present due to a last-minute scheduling conflict.
In addition to Bradtsreet and Magee's comment, town Councilor John LaGorga said Coe has "taught me the good value of working together" in their years together on the board.
(Continued on Next Page)
Prev Next
Vote on this Story by clicking on the Icon