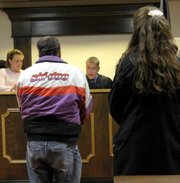 Cazenovia — The man police suspect to be the Cazenovia "exercise stalker" has been arrested, arraigned and is currently in Madison County Jail.
Daryl T. Anthony, 45, of Oneida, was taken into custody by Madison County Sheriff's Office investigators on Tuesday, Dec. 10, and charged with one count of criminal nuisance in the second degree, a class B misdemeanor. Anthony was arraigned in Cazenovia Village Court before Acting Justice Patrick J. O'Sullivan and ordered held in lieu of $2,500 cash or $5,000 bond bail.
Anthony's arrest was the result of a joint investigation by the Cazenovia Police Department, New York State Police and the Madison County Sheriff's Office.
The charge against Anthony stems from incidents that allegedly occurred in the town of Cazenovia from June to October of this year in which a person in an orange vehicle was following women as they walked or bicycled on various town roads.
Cazenovia police received numerous tips concerning the alleged stalker once the case was made public, but the break in the investigation came after a Cazenovia citizen observed an orange vehicle with its rear hatch open following a woman riding a bicycle in the village heading into the town of Cazenovia. The citizen contacted Cazenovia police and Anthony was subsequently stopped by the Cazenovia police and identified. Anthony was interviewed by state police and county sheriff's investigators due to the fact that all of the incidents occurred in the town of Cazenovia.
At the Dec. 10 arraignment in village court, Anthony, handcuffed, was brought in by two county sheriff's investigators. Anthony's mother accompanied them into the courtroom.
O'Sullivan, stating the alleged facts of the case, said that the criminal nuisance charge against Anthony was the result of him allegedly following approximately 10 adult women while they exercised in the town of Cazenovia on West Lake, East Lake, Chard, Ridge and Lincklaen roads. He is alleged to have been driving his orange 2008 Hyundai Accent during this incidents, and that he drove with the rear hatch open in order to obscure his rear license plate. According to the charges, Anthony was allegedly performing a lewd act while he followed the women in his car.
(Continued on Next Page)
Prev Next
Vote on this Story by clicking on the Icon