While a "shopping spree" may sound like something a contest winner would get, Skaneateles students recently participated in a spree to help less fortunate people.
For the 14th consecutive year, Skaneateles Middle School Student Council Holiday Shopping Spree was held yesterday. Fifty-six total students split into 15 groups, each with a chaperone, spent $13,200 on gifts at the Camillus Wal Mart.
The money came as: a $5,000 donation from Friends of Dave Pirro, a $5,000 donation from Todd's Fund, $1,350 from the middle school student council and $2,200 from Wal Mart who gives a 20 percent discount on everything purchased.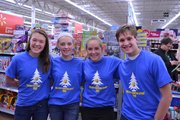 The items purchased were then donated to 15 Central New York non-profit organizations including: Skan (an anonymous angel fund), local food pantries, Make-a-Wish Foundation, Ronald McDonald House, Boys and Girls Club and the Vera House.
The four student council advisors said that they, along with advisor Scott Stagnitta, were responsible for dividing the students into groups and giving each one a shopping list and budget. New this year, they decided to have a competition to see which group got the most value from their budget, the winner will get a pizza party. Most groups shopped for toys, though some picked out clothing or other items.
Many of the organizations even come to Wal Mart in person every year to pick up the gifts and thank the students, an experience that shows them the benefit of their hard work Student Council Secretary Lily Datz said.
"A lot of people don't have what we would call a regular Christmas," Datz said. "So it makes you feel so much more humble about what you do to see them come here."
The student council raises funds through events such as their annual event where they sell Dinosaur Barbecue and Gianellis Sausage and proceeds from admission tickets for school dances. Much of that money eventually goes toward the shopping spree.
(Continued on Next Page)
Prev Next
Vote on this Story by clicking on the Icon