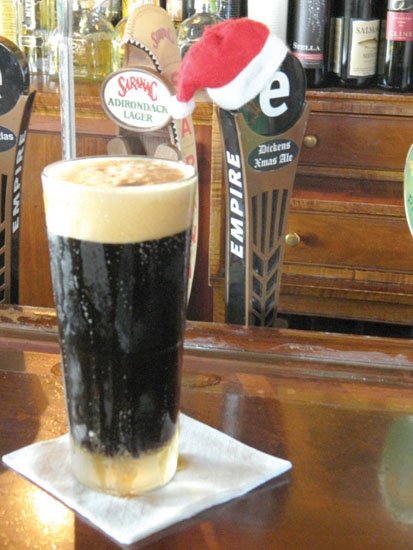 Skaneateles — Empire Brewing Company's holiday seasonal beer, Dickens Christmas Ale, made exclusively to be sold in Skaneateles during its "Dickens Christmas" celebrations, was so popular in its inaugural year in 2012 that Empire is offering it again this year — and the beer-maker is already planning to create a Cazenovia-exclusive holiday beer in 2014 once the new Farmstead Brewery is built on Rippleton Road.
"One hundred percent yes, we will do a Cazenovia-specific beer," said Empire owner and Cazenovia resident David Katleski. "We haven't figured out what yet, 'Lincklaen Lager' perhaps. We're still throwing around ideas."
The Dickens Christmas Ale is a strong, dark Scottish-style ale, with flavors of cardamom and allspice, reminiscent of the beers drunk in the time of Dickens himself. It was created in 2012 by Tim Butler, Empire Brewing Company brew master, at the request of the owner and management of The Sherwood Inn in Skaneateles to have a special offering exclusive to both the restaurant and the popular Dickens Christmas event.
"It is historical in a sense. It's a dark beer, heavy in character with some spices they may have used back then," Butler said. "There's not a lot of beer-making records that survive from that time, but the beer was darker, stronger, with a smoky malt character, aged in oak."
It is not aged in oak, but does have a smoky character, Butler said. It is also fortified to make it 7.5 percent alcohol by volume, versus the typical 4.5 percent of most beers today.
"I fortify it with alcohol because a winter ale tends to warm you up in cold weather," Butler said.
The Dickens' Christmas Ale is made in the Empire Brewing Company's Armory Square Brew-Pub from Skaneateles Lake water, and will be sold until the end of the year exclusively at the Sherwood Inn in Skaneateles.
"It was fabulous [last year]. People really, really enjoyed it; they thought it was very flavorful, different and certainly suited the season," said Dennis Dundon, Sherwood Inn marketing director. "We're excited about offering it again."
Also being offered again this year are pint glasses with the Dickens' Christmas Ale logo for $5 per glass, Dundon said. "This year is special because it's the 20th anniversary of Dickens Christmas in Skaneateles," he said.
Jason Emerson is editor of the Cazenovia Republican. He can be reached at editor@cazenoviarepublican.com.
Vote on this Story by clicking on the Icon