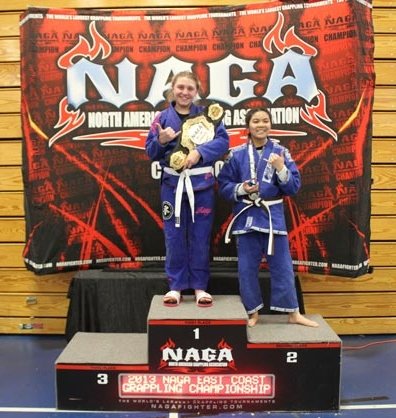 continued — Other times it's not the boys, but rather the parents who react to a girl being on the mats, Colleen said.
"Sometimes you hear it from parents, like, 'It's inappropriate,' because of the positions they get into," she said. "Well, she doesn't have a problem with it, I don't have a problem with it as her parent, so that's your problem."
Bailey's favorite martial art, between karate, jiu-jitsu and wrestling, is jiu-jitsu, "probably because it's the most complicated out of all three of them," she said. "Karate, you're just punching, and then wrestling the only point is to pin them, and then jiu-jitsu, there are multiple things that you can do."
While her immediate plans involve continuing with jiu-jitsu and wrestling with the school team, Bailey's long-term goal is "to grow up and be an MMA fighter," she said.
Mixed martial arts is "everything combined into one," John said, listing wrestling, grappling, jiu-jitsu, boxing and kickboxing all as part of the sport.
"Her original goal was to be the first woman in the [Ultimate Fighting Championship]," Colleen said. "Well, they already have one — Ronda Rousey — so now she's just hoping to make it to the UFC."
New York is the only state that has not legalized MMA, so Bailey hopes that will change by the time she's ready to compete.
"She's nervous about it, but hey, she's 13, too, and rolling with the big guys," John said. And despite the dangerous nature of MMA and other martial arts, Colleen knows her daughter is well prepared to defend herself if anything bad were to happen.
But amid all of the wrestling and jiu-jitsu, "she's a real girly-girl, too," John said. "You wouldn't know that she wrestles and does all this stuff."
Colleen said that Bailey loves to shop and do her hair and nails, too — the fact that Bailey can't wear her nails long when she's competing is one of the hardest things for her.
Vote on this Story by clicking on the Icon