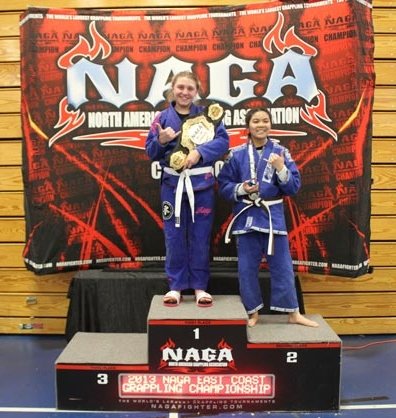 continued — Bailey not only competes against opponents outside of her division, but also trains with them at Tai Kai.
"Because of her size and her strength, she actually trains with the adults," said Colleen Sherbourne, Bailey's mom. "So she rolls with the men."
And she always surprises the men with her abilities, too.
"Every time a grown guy has ever grappled with her, the first thing they say is, 'There's no way she's 13,' or 'Holy cow, she's strong,'" said John Sherbourne, Bailey's dad.
Bailey said whether or not she is scared to take on male opponents depends on the situation.
"If it's me just grappling my everyday partner, it's fine," she said. "But at tournaments with everybody watching you, you've got the one person and you don't know what they're like, you don't know how they grapple and you don't know anything they're going to do. It's spontaneous, so at some points I'm scared, but it depends on the moment."
The Sherbournes had never noticed any strange reactions from boys when fighting Bailey until a wrestling match earlier this year, when one male opponent pretended to faint.
"This way he didn't have to say he got beat by a girl," Colleen said.
"It was the weirdest thing," John added. "They didn't even start. They were ready to start, the ref goes, 'OK, go' … and she doesn't know what to do because he's not moving. And then he just falls to the ground and rolls on his back."
The coaches rushed over to Bailey's opponent, but he got right back up and then let Bailey take him down and pin him. "He just gave up," John said.
But later that night, Bailey added, her opponent was kicked off of his team for poor sportsmanship.
"That was the first time we ever said, 'OK, I hope this is not a pattern,'" John said. "After that, everything was great."
Vote on this Story by clicking on the Icon