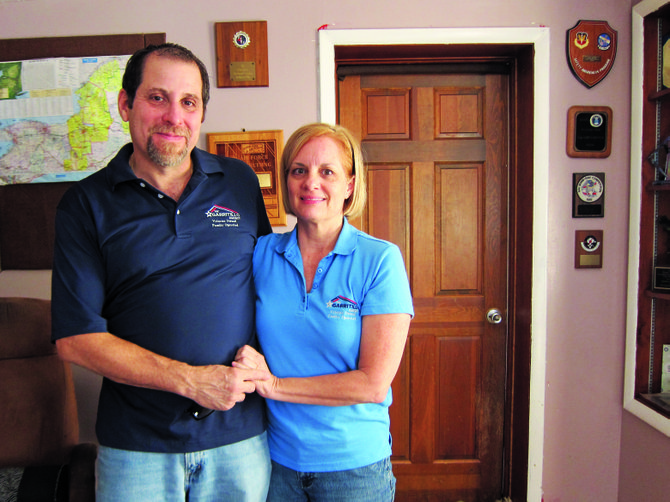 As of the morning on Monday, Aug. 19, Men o Pause Anonymous had 270 members, Boomer Bitches and Babes had approximately 90, Susan said, and the Menopause Chat page had 300 "likes."
"There's over 34 symptoms that you can have in menopause, and each symptom has maybe five or six different ways that it can affect a woman or a man with andropause — it's not cut and dry," Susan said. "So [Men o Pause Anonymous] is a very relatable group. You go in there, you have a problem, within minutes you have somebody on there that will help you and be able to encourage you."
Susan said that she and group members always remind others that they are not doctors and that group members should check with their doctors before changing their diets or supplements, for example.

She also has six sponsors for her groups, including but not limited to Phil Lennon, the owner of a CrossFit gym in Verona, Va., and a graduate of the EBV program; Dry Babe, which provides women experiencing night sweats with absorbent and attractive sleepwear; and Artworx by Tracey, who is an Australian oil painter.
"Every sponsor we have gives our members discounts," she said. "No one is allowed to advertise on my page or in my groups unless they have my permission or Jerry's permission. … I'm not doing free advertising for them to benefit without our members getting something."
In a Facebook conversation on Men o Pause Anonymous, group members told each other and the Eagle Observer about what the group has done for them, including statements that it has founded friendships and offered nonjudgmental support.
"These beautiful, lovely, caring women are the best. I truly believe it comes from our fearless leader Susan. She shares so much of herself not only her time but her heart," wrote Vivian Benitez Lewis, a member of both Men o Pause Anonymous and Boomer Bitches and Babes. "Because of these ladies, I feel stronger and happier. I know there's always someone here to speak to if I get worried or something happens. … I am happy to say I've learned meno isn't all in my head. It's real and real people are going through the same thing as I."
Vote on this Story by clicking on the Icon