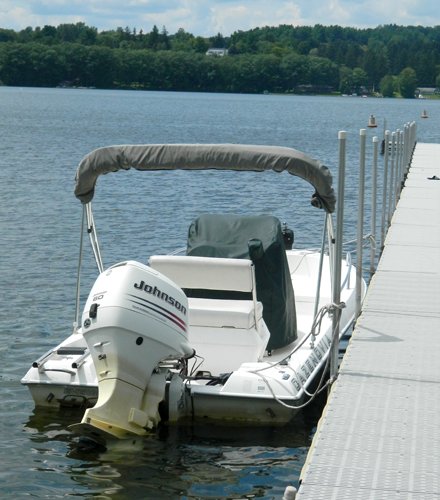 continued — The lake patrol, which runs on a random basis although mostly on weekends, is mainly an educational resource for boaters although it does have the authority to enforce boating regulations. "It's a safety patrol that has police capabilities," Hayes said.
Patrol officers look for boaters or swimmers in need or in distress, and keep an eye out for safety issues on the lake. For example, patrol officers will look for people waterskiing without a spotter, which is dangerous if the skier goes down because the driver will not see what happened. Officers also look to ensure boaters have all the proper, and up-to-date, equipment in the boat such as life vests, ropes, flares and fire extinguishers.

"We're not here to write tickets but to educate people," Hayes said. "People really seem to welcome the fact that there's a patrol out there."
Cazenovia Mayor Kurt Wheeler said he has also received a lot of positive feedback from residents as well as from all the organizations involved in the patrol, and now that the program is up and running and all the pieces are in place, next year's patrol will start as soon as the lake opens for the season.
As for funding, the village is currently looking for outside revenue to pay for — or help pay for — the patrols. Hayes said he will apply for state navigation funding grants soon that could, if received, pay for the patrols for up to four years.

"All three parties see the value of this and a there's a belief in doing it," Wheeler said. "So we'll find the resources to continue it."
For more information on boating regulations and boater safety issues, educational materials are available at the public boat launch in Lakeside Park. The public can contact the Cazenovia Village Police Department.
Jason Emerson is editor of the Cazenovia Republican. He can be reached at editor@cazenoviarepublican.com.
Vote on this Story by clicking on the Icon