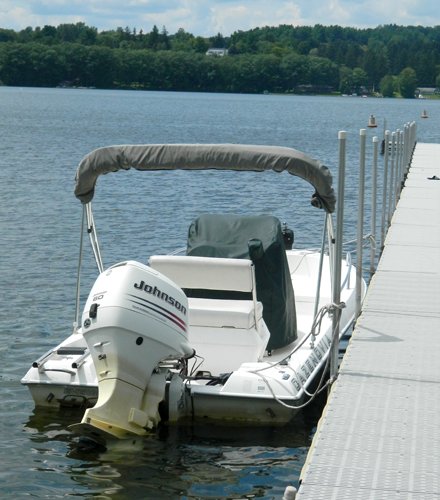 Cazenovia — It has been seven weeks since the Cazenovia Lake Boat Patrol took to the water to educate and, when necessary, enforce boating rules and safety issues on the lake, and the program, now manned by village police officers rather than county sheriff's deputies, has been extremely successful.
"It's just been a really good cooperative effort between all parties involved: the village, town, Cazenovia Lake Association, [New York state] park police, Willow Bank Yacht Club, both municipal attorneys and all my officers," said Cazenovia Village Police Chief Michael Hayes. "We're here to educate first and enforce second. The officers see it as another ability to contribute to the community and practice community policing."
The lake patrol was formerly run by the Madison County Sheriff's Office, but in 2012 the department had such a labor shortage that patrols were severely curtailed.
"The patrols really went to about nothing in both public perception and in actuality," said Bob Greiner, Cazenovia Lake Association president.
So Greiner, working with Town Councilor Bill Zupan, approached Madison County Sheriff Allen Riley and asked if the lake patrol boat could be given back to the CLA — where the boat originated — so the organization could find another way to provide patrols. Riley said yes, so the CLA worked with both the town and village governments to create a shared services agreement between all parties.
The village, which was the only one of the three to have its own law enforcement agency, agreed to man the patrol with village police officers and do all the related management work, the town provided support and $3,000 for operating costs and the CLA provided $5,000 and the boat and all its accoutrements. The Willow Bank Yacht Club agreed to dock the boat in one of its slips.
After lengthy discussions between the three groups — mainly to work through jurisdictional issues — the village and town boards both unanimously approved an inter-municipal agreement to create the lake patrol in early July. The contract was based on the previous town agreement with the Madison County Sheriff's Office. The newly refitted boat with village police officers at its helm took to Cazenovia Lake the weekend of July 4.
(Continued on Next Page)
Prev Next
Vote on this Story by clicking on the Icon