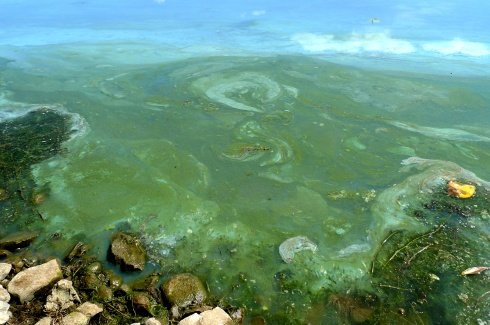 continued — The amount of blue-green algae in Cazenovia Lake has been confirmed by the DEC but not labeled as being "highly toxic." A highly toxic rating would mean there are toxins in enough quantities to cause health effects when people and animals come in contact with the water through swimming or drinking.
Symptoms from contact with harmful blue-green algae blooms can include nausea, vomiting, diarrhea, skin or throat irritation, allergic reactions or breathing difficulties. Blue-green algae can also produce toxins that affect the liver and nervous systems when water is consumed in sufficient quantities.
The DEC website on harmful blue-green algal blooms advises that:
—People in confirmed bloom areas never drink surface water even if it is treated because in-home treatments such as boiling or disinfecting water with chlorine or ultraviolet (UV) or water filtration units do not protect people from blue-green algal toxins.
—People, pets and livestock should avoid contact with water that is discolored or has scums on the surface. Colors can include shades of green, blue-green, yellow, brown or red. If contact does occur, wash with soap and water or rinse thoroughly with clean water to remove algae.
—If washing dishes in untreated surface water is unavoidable, rinsing with bottled water may reduce possible residues. While the DEC does not know if water containing low levels of blue-green algal toxins could leave residues on dishes, taking this precaution may help reduce possible exposures.
—Stop using the water and seek medical attention if needed if any symptoms occur while in contact with untreated surface waters. However, swimming, bathing or showering with water not visibly affected by a blue-green algae bloom is not expected to cause health effects.
Moran, who is a water quality specialist who runs the environmental consulting firm EcoLogic, LLC, said algal blooms individually dissipate in three-to-five days but it also spreads, so it will typically last for a "period of weeks" and will move around the lake. Blue-green algal blooms have occurred in Cazenovia Lake the past few years. "It's a very serious occurrence," she said.
For more information on blue-green algae, including photographs of harmful and non-harmful green algae blooms, visit the DEC website at dec.ny.gov/chemical/83310.html.
Jason Emerson is editor of the Cazenovia Republican. He can be reached at editor@cazenoviarepublican.com.
Vote on this Story by clicking on the Icon