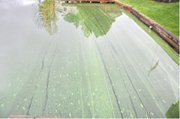 Cazenovia — The New York State Department of Environmental Conservation has confirmed the presence of blue-green algal blooms in Cazenovia Lake. This type of algae can be irritating – even toxic – to humans in large enough concentrations, and the DEC is recommending no one drink the lake water and swimmers be sure to avoid contact with any floating rafts, scums and discolored water.
The confirmation of blue-green algal blooms in Cazenovia Lake was made by the DEC on Aug. 13 and reported on their website on Aug. 16. The Cazenovia Town Board was informed of the algal blooms this past weekend, Town Councilor Liz Moran told members of the Cazenovia Lake Association at its annual meeting on Monday, Aug. 19.
While the DEC website did not list the extent of the blooms in the lake – whether localized, widespread or in open water – Moran said the board was informed they were in "low concentrations." She said the town has not issued any emergency declaration to close the swimming areas or restrict lake use at this time and nobody has reported any illnesses from blue-green algae exposure.
A call to the regional DEC office in Syracuse was not returned.
Blue-green algae, technically known as cyanobacteria, are naturally present in lakes and streams in low numbers. Blooms may be triggered by a combination of water and environmental conditions, including excess nutrients such as phosphorus and nitrogen, sunlight, low-water or low-flow conditions, calm water and warmer temperatures.
According to the DEC, blue-green harmful algae blooms may look like parallel streaks, usually green, on the water surface; like green dots in the water, or green globs on the water surface; like blue, green or white spilled paint on the water surface; or they may make the water look like pea soup.
Non-toxic green algae blooms can look like floating rafts on the water; like bubbling scum on the water and may be entangled with other plant material; can look silky, hairy or like wet fabric on the rocks, plants or water surface; or can look stringy or hairy or like a tumbleweed in the water or on the lake bottom.
(Continued on Next Page)
Prev Next
Vote on this Story by clicking on the Icon