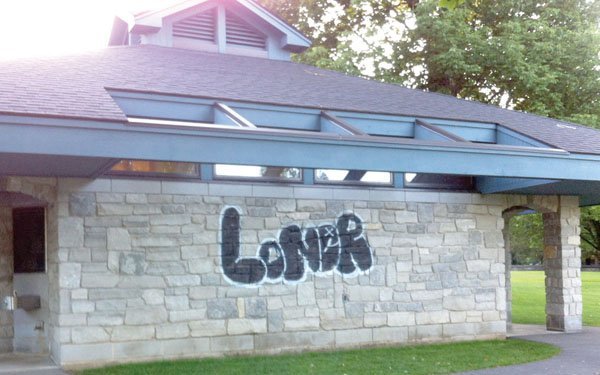 Cazenovia — Cazenovia Village Police have arrested a local, 16-year-old male in connection with the Lakeland Park Bathhouse graffiti incident from last week. The teen, whose name cannot be released because he is a minor, was charged with a Class E felony for criminal mischief and will be arraigned in Cazenovia Village Court on Sept. 4. If convicted, a Class E felony is punishable by up to four years in prison.
Police are continuing their investigation, however, believing there are more perpetrators involved in the rash of graffiti that has spread through the village in recent weeks.
"I don't believe he is the only one," said Cazenovia Village Police Chief Michael Hayes. "I believe there are more involved so the investigation is continuing and we're still asking the public for any assistance they can offer."
There have been 15 separate documented incidents of graffiti around the village of Cazenovia this summer, typically the words "Loner" or "Naff" spray painted on signs, sign posts, mailboxes, walls and sidewalks.
The spray-painting of the four-foot-long word "Loner" on the bathhouse last week caused thousands of dollars in damage and escalated the crimes from misdemeanors to a felony.
This week, another "Loner" incident was reported in the tunnel at Cazenovia High School, police said.
The arrest on Aug. 14 of the 16-year-old male was made after the suspect turned himself him after seeing the report published in the Cazenovia Republican this week, Hayes said.
"I received a call from an attorney who had been hired by a parent saying his son admitted to the [Lakeland Park] bathhouse incident and wanted to turn himself in," Hayes said. "He saw the story in the Republican."
The suspect made no statement and admitted only to the bathhouse graffiti, Hayes said.
"The fact that he took responsibility for his actions will definitely make it easier in the long run for him," Hayes said. "This is a serious crime, but given his age, the fact that this was his first offense and he was honest about it, it will go a long way to a better disposition."
(Continued on Next Page)
Prev Next
Vote on this Story by clicking on the Icon